'We moeten en kunnen in Amsterdam meer ruimte geven aan klimaatadaptatie!' Eerste Leertraject Klimaatadaptatie van Urban Technology met gemeente Amsterdam en Waternet is afgerond.
Van overstroomde straten tot dorre parken, klimaatverandering is steeds duidelijker zichtbaar in de stad. Hoe kunnen we onze steden daar tegen weren en klimaatadaptief (her)inrichten? Ruim 30 medewerkers van gemeente Amsterdam en Waternet namen deel aan het eerste Leertraject Klimaatadaptatie van lectoraat Water in en om de stad (HvA Centre of Expertise Urban Technology). 'Veel geleerd over een integrale aanpak van maatregelen die voor meerdere klimaatthema's tegelijk werken.'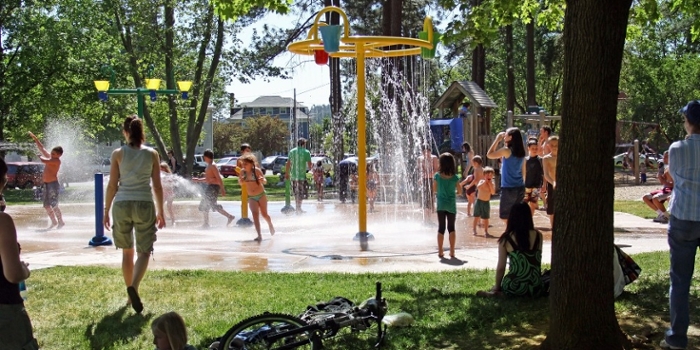 Het Betondorp in Amsterdam maakt haar naam waar: veel steen, verharding en wateroverlast als gevolg wanneer er extreme buien plaatsvinden. Maar daar is sinds kort een klimaatadaptieve oplossing voor verzonnen: wadi's. Regenwater stroomt naar deze verdiepte groene plekken om het op te vangen en langzaam in de bodem te laten infiltreren. Inmiddels heeft Betondorp diverse vegetaties die het stadsdeel een stuk groener maken.
Van steen naar groen
Betondorp is een voorbeeld waar de Nieuwezijds Voorburgwal vooralsnog jaloers op is. Deze grote straat, die loopt van Spuiplein tot Station Amsterdam Centraal, moet opnieuw ingericht worden, vertelt Lisette Klok, docent-onderzoeker van de HvA en Leertraject Klimaatadaptatie. 'Het is een verharde omgeving met veel schaduw, waar we meer groen kunnen creëren om ruimte te geven aan klimaatadaptatie.' Het is een van de vele praktijkcases die ruim 30 professionals van de gemeente Amsterdam onder de loep namen op de klimaatthema's waar we door klimaatverandering vaker mee te maken krijgen; wateroverlast, hitte, droogte en waterveiligheid.
Brede insteek voor integrale aanpak
De thema's van het leertraject helpen om kennis over klimaatverandering te verbreden, om tot een integrale aanpak te komen bij de gemeente en Waternet, vertelt Alice Driesen, deelnemer en mede-organisator van het leertraject (werkzaam bij afdeling Ruimte en Duurzaamheid). 'Ik werk nu aan Amsterdam Rainproof , een programma gericht op het regenbestendig inrichten van de stad. Dus kennis over wateroverlast had ik wel. Maar de effecten van hitte en droogte in de stad, hoe dat in kaart te brengen en welke oplossingen, risico's en kosten er zijn? Dat was nieuw voor mij. Bij de gemeente willen we alle klimaatproblemen in een stadsgebied tegelijk kunnen aanpakken.'
Driesen onderzocht met haar leertrajectgroep de effecten van klimaatverandering op straatniveau in het Oostelijk Havengebied van Amsterdam. Zij keken naar stresstestkaarten  om te achterhalen wat er precies speelt in het gebied, vertelt Driesen. 'Is het gebied gevoelig voor hittestress, hoe is de bodemopbouw, hoe zijn de grondwaterstanden? We verbinden bestaande databronnen aan elkaar voor een completer beeld, zoals peilbuismetingen voor de grondwaterstanden om te achterhalen of er risico is op paalrot bij oude panden. Vervolgens koppelen we er concrete maatregelen aan. In onze diverse leertrajectgroep, van stedenbouwkundigen en ontwerpers van de openbare ruimte tot maaiveldwerkvoorbereiders en assetbeheerders, konden we elkaars expertises bundelen en tot integrale oplossingen komen.'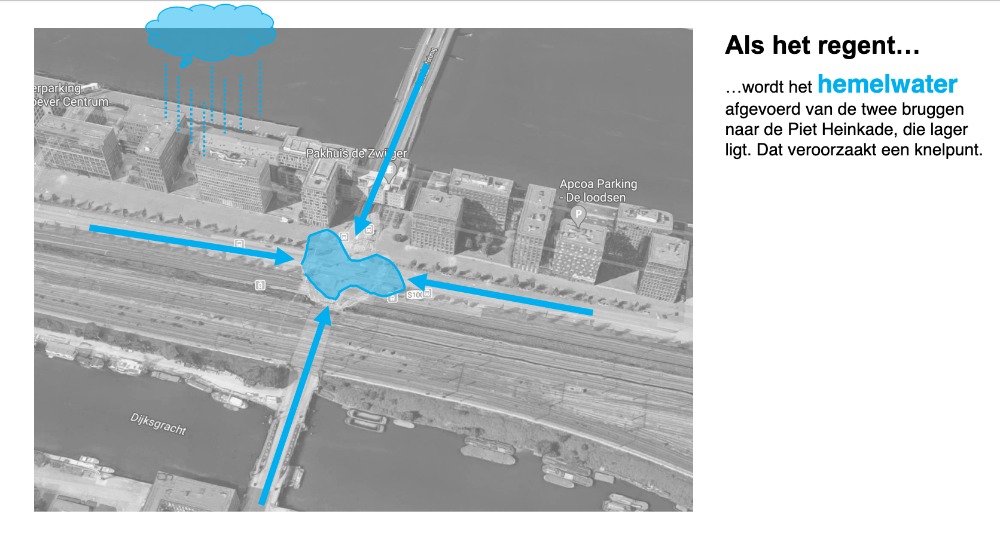 Voorbeeld probleem case Oostelijk Havengebied, Amsterdam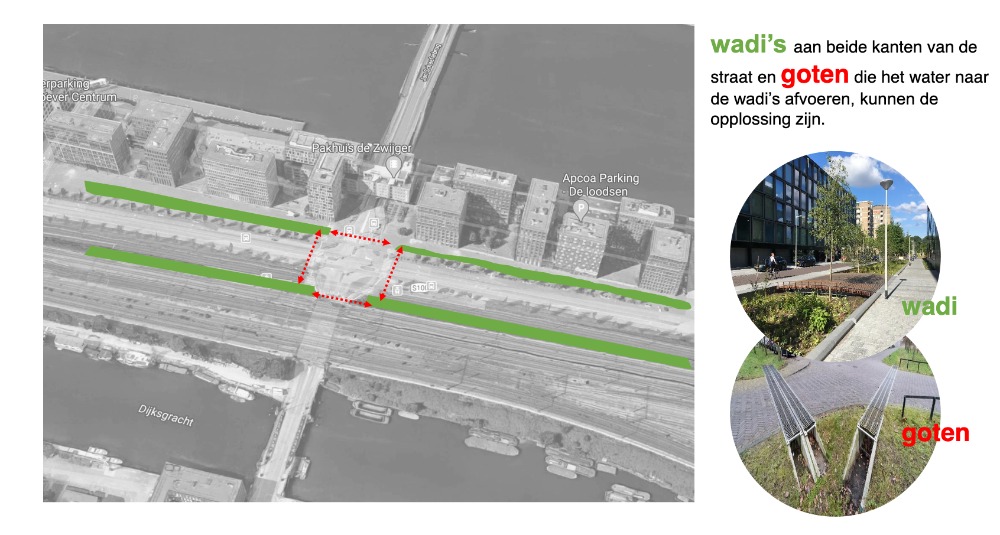 Voorbeeld oplossing case Oostelijk Havengebied, Amsterdam
Deltabeslissing ruimtelijke adaptatie zet druk
Van droogte tot wateroverlast, het speelt niet alleen in Amsterdam. De deltabeslissing Ruimtelijke adaptatie van de overheid stelt daarom dat heel Nederland in 2050 waterrobuust en klimaatbestendig is ingericht. Gemeenten, waterschappen, provincies en het Rijk moeten er samen voor zorgen dat schade door hitte, wateroverlast, droogte en overstromingen zo min mogelijk toeneemt. Dat is een grote opgave, stelt Klok. 'Klimaatadaptatie is voor velen een nieuw onderwerp en dus nog niet zo vanzelfsprekend. Dat geldt ook voor de professionals bij de gemeente en Waternet. De noodzaak is hoog. Het klimaatbestendig inrichten van steden moet normaal worden, en wij moedigen dat met ons Leertraject Klimaatadaptatie aan. Vanwege succes gaan we binnenkort een tweede traject starten!'
'Nog een leuk feitje', sluit Klok enthousiast af, 'is dat de opzet van het leertraject bijna één op één is overgenomen uit onze minor Klimaatbestendige stad die veel studenten trekt, ook buiten de HvA. Dezelfde docenten geven nu ook 'college' aan de professionals van die meedoen aan het Leertraject Klimaatadaptatie. Het is natuurlijk nooit te laat om te leren over het klimaat!'
Meer informatie Leertraject Klimaatadaptatie
Het Leertraject Klimaatadaptatie van lectoraat Water in en om de stad van Centre of Expertise Urban Technology heeft tot doel het kennispeil op het gebied van klimaatadaptatie binnen de gemeentelijke organisatie te versterken en beter te borgen. Na vijf cursusdagen, online excursies, praktijksessies en groepswerk aan weekopdrachten voor een klimaatadaptief ontwerp van een projectgebied zijn de deelnemers op de hoogte van de laatste ontwikkelingen en wetenschappelijke inzichten in de diverse klimaatadaptatiethema's. En weten zij hoe ze met deze kennis de juiste maatregelen kunnen treffen in de openbare ruimte.