The changes in the field of sustainability are in full swing. Electric cars, heat pumps and solar panels ensure that a lot of people can make their contribution, even at home. At the same time, these innovations appeal to the electricity grid in the city. More infrastructure is needed to be able to supply the increasing demand for electricity. On the other hand, we have to deal with electricity in different ways. How do we do this? What is needed to keep moving forward? And how do we involve residents in this?
On the 15th of October, Amsterdam Smart City and some of our partners discussed this topic in Pakhuis de Zwijger. Amsterdam Smart City aims for a conversation between its partners and the general public. After all, residents are the ones that have to deal with all innovative projects and the ones with great initiatives themselves, so let's involve them as soon as possible!
This summer, grid operator Liander and the City of Amsterdam launched a report with an alarming message: in 2050 we will need 2,5 times more electricity than we do now. Eric Koldenhof from the Sustainability department of the City of Amsterdam and Paul van Engelen, region lead Amsterdam of Liander told the audience that this is quite a puzzle, with a growing population and shrinking physical space. For Amsterdam this expected increase in electricity demand means we will need 6 to 8 more electrical substations and around 2.500 small containers throughout the city. They showed a map with warning signs: some of the current substations are already reaching their maximum capacity.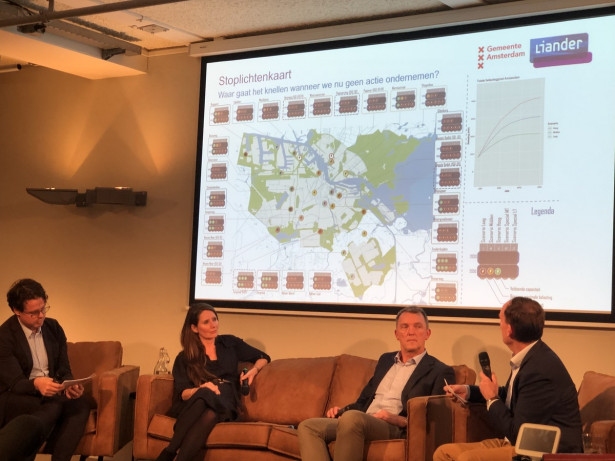 Leonie van den Beuken, program director of Amsterdam Smart City, asked Koldenhof and Van Engelen how critical this issue really is: 'Is there a possibility we will not be able to switch on a light in the near future?' Paul: 'We won't lose power, don't worry. The real problems are the new developments. With the current capacity on the grid, it will be very hard to connect new customers, such as big car charging stations or datacenters.'
We will need to expand the electricity grid, but there are two other big recommendations in the research: we need innovative solutions that can work off the grid or efficiently to reduce the impact on the grid and the City and Liander want to look forward and cooperate more. If we have to open up a street for cabling, this can be a possibility to do other constructions simultaneously.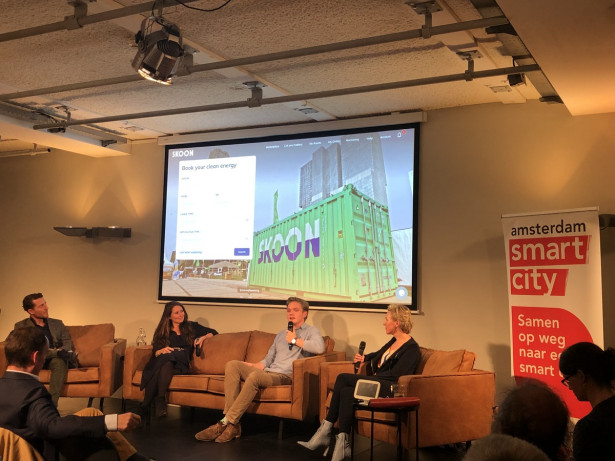 Falco Pieters from Stichting Wiek-II, Peter Paul van Voorst from Skoon Energy and Marjolein Bot from the Amsterdam Economic Board are the ones with solutions to unburden the electricity grid. In Arnhem-Nijmegen, Falco combines technological innovations, wind and solar energy with the participation of citizens. Wiek-II found a way to connect this generated energy to the grid more efficiently and they are happy to copy the concept to other areas in the Netherlands.
Skoon Energy created big switch batteries, mainly for the maritime sector, but they also work for festivals and construction – and perhaps even in the city as a temporarily solution These batteries are short term solutions, but batteries can be charged when there is space on the grid. Peter Paul: 'I am really happy with the ambitions of the City of Amsterdam and the urgency for innovation. This creates opportunities for my business!'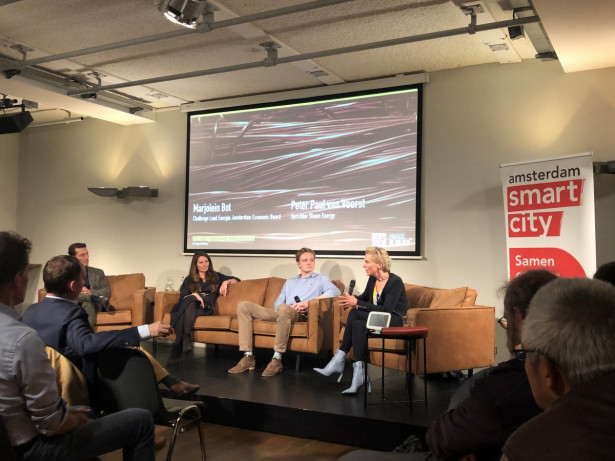 Marjolein Bot told the audience about her research on the influence of digitalization. Not only sustainable solutions ask for more electricity, data and digitalization are increasing the demand as well. Marjolein is working on efficiency in IT such as green coding, photonics, blockchain, AI and datacenters.
In 2021 governments with plans for the public space will be obliged to incorporate citizens' opinions in their plans ('Omgevingswet'). This means that participation and co-creation with citizens is becoming more important, also in the decision on where to build new electrical substations in the city. How can we make sure that participation is useful and meaningful? Dave van Loon (Kennisland), Melika Levelt (Amsterdam University of Applied Sciences) and Pauline Westendorp (02025) are working on participation on a day-to-day basis.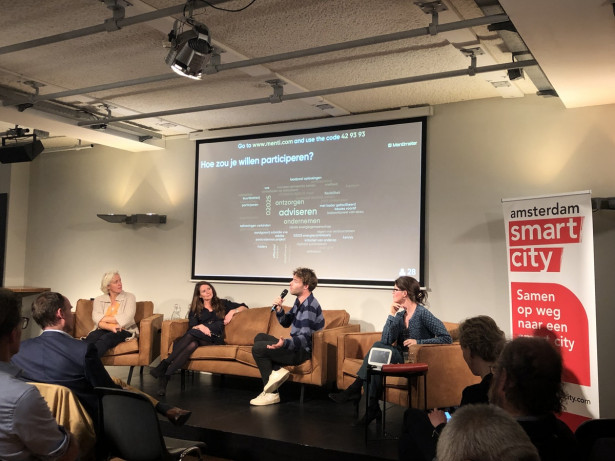 The panel discussed the conditions for citizens to participate in these kind of processes. Melika Levelt: 'As a government or company, please be clear about the processes that are fixed and that are going to happen anyway. Be clear about the influence residents can have and tell them honestly if you have to make another choice because of political reasons. Citizens will only be interested if you have clear and concrete questions. Take time to hear as many opinions as possible. They really have a feeling about the physical space and their neighbourhood, so take this into account. It is not only a project, but really a place to live.' Dave: 'And it is very important to realize that a lot of individuals won't take the time to cooperate with you. You have to get in touch with citizens' initiatives and local cooperatives.'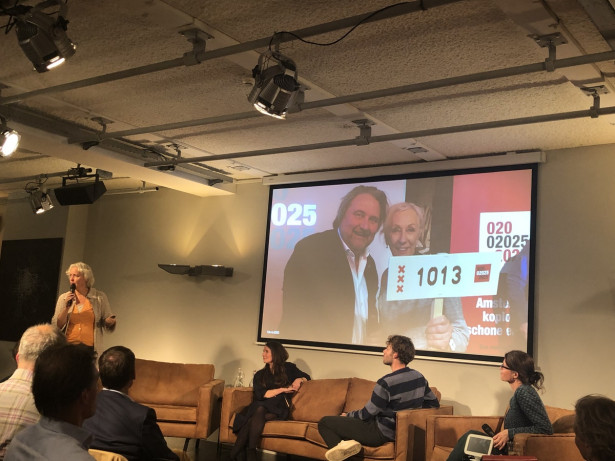 Paulien challenged the City of Amsterdam: 'Can we focus on developments before 2030 or 2050? Can we make changes now or tomorrow? People are ready for it!' But be aware: not everyone wants to participate. Some people just want others to take the lead in these developments. And that's fine as well.
Watch the live feed of the evening here: <https://dezwijger.nl/programma/het-net-onder-spanning>
Want to know more about this? Visit the Kennisland event 'Out of Office #29: 'Eerlijke en inclusieve energietransitie: snel en toch samen?' about the honest and fair energy transition. (in Dutch) Thursday 31 of October in Amsterdam!