Want to receive updates like this in your inbox?
Get notified about new updates, opportunities or events that match your interests.
Set up preferences
Maybe you will also like these updates
Herman van den Bosch, professor in management development , posted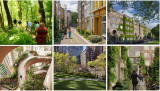 This is the 11th episode of a series 25 building blocks to create better streets, neighbourhoods, and cities. In this post, I wonder whether nature itself can tackle the environmental problems that humans have caused.
Ecosystem services
According to environmental scientists, ecosystems are providers of services. They are divided into production services (such as clean drinking water, wood, and biomass), regulating services (such as pollination, soil fertility, water storage, cooling, and stress reduction) and cultural services (such as recreation, and natural beauty). In case of nature-inclusive solutions ecosystems are co-managed to restore the quality of life on the earth in the short term and to maintain it in the long term, insofar as that is still possible.
The green-blue infrastructure
The meaning of urban green can best be seen in conjunction with that of water, hence the term green-blue infrastructure. Its importance is at least fourfold: (1) it is the source of all life, (2) it contributes substantially to the capture and storage of CO2, (3) 'green' has a positive impact on well-being and health; (4) it improves water management. This post is mainly about the third aspect. The fourth will be discussed in the next post. 'Green' has many forms, from sidewalk gardens to trees in the street or vegetated facades to small and large parks (see collage above).
Improving air quality
Trees and plants help to filter the water itself. They have a significant role to play in managing water and air pollution. Conifers capture particulate matter. However, the extent to which this occurs is less than is necessary to have a significant impact on health. Particulate matter contributes to a wide range of ailments. Like infections of the respiratory system and cardiovascular disease, but also cancer and possibly diabetes.
Countering heat stress
Heat stress arises because of high temperature and humidity. The wind speed and the radiation temperature also play a role. When the crowns of trees cover 20% of the surface of an area, the air temperature decreases by 0.3oC during the day. However, this relatively small decrease already leads to a 10% reduction in deaths. Often 40% crown area over a larger area is considered as an optimum.
Reduce mental stress and improve mood
According to Arbo Nederland, 21% of the number of absenteeism days is stress-related, which means approximately a €3 billion damage. A short-term effect of contact with nature on stress, concentration and internal tranquility has been conclusively demonstrated. The impact of distributing greenery within the residential environment is larger than a concentrated facility, such as a park, has.
Strengthening immune function via microbiome
The total amount of greenery in and around the house influences the nature and quantity of the bacteria present. This green would have a positive effect on the intestinal flora of those who are in its vicinity and therefore also on their immune function. The empirical support for this mechanism is still rather limited.
Stimulate physical activity
The impact of physical activity on health has been widely demonstrated. The Health Council therefore advises adults to exercise at least 2½ hours a week. The presence of a green area of at least ¼ hectare at 300 meters from the home is resulting more physical activity of adults in such areas, but not to more activity as a whole.
Promoting social contact
Well-designed green areas near the living environment invite social contacts. For instance, placement of benches, overview of the surroundings and absence of traffic noise. The state of maintenance are important: people tend to avoid neglected and polluted areas of public space, no matter how green.
Noise reduction
Vegetation dampens noise to some extent, but it is more important that residents of houses with a green environment experience noise as less of a nuisance. It is assumed that this is due to a mechanism already discussed, namely the improvement of stress resistance because of the greenery present.
Biophilic construction
For years buildings made people sic. A growing number of architects want to enhance the effect of 'green' on human health by integrating it into the design of houses and buildings and the materials used. This is the case if it is ensured that trees and plants can be observed permanently. But also, analogies with natural forms in the design of a building
The 'Zandkasteel', the former headquarters of the Nederlandse Middenstandsbank in Amsterdam, designed by the architects Ton Alberts and Max van Huut, is organically designed both inside and outside, inspired by the anthroposophical ideas of Rudolf Steiner. The (internal) water features are storage for rainwater and the climate control is completely natural. The building has been repurposed for apartments, offices and restaurants.
Green gentrification
Worldwide, there is a direct correlation between the amount of greenery in a neighborhood and the income of its residents. Conversely, we see that poorer neighborhoods where new green elements are added fall victim to green gentrification over time and that wealthier housing seekers displace the original residents.
The challenge facing city councils is to develop green and fair districts where gentrification is halted and where poorer residents can stay. Greening in poor communities must therefore be accompanied by measures that respect the residential rights and aim at improving the socio-economic position of the residents.
Follow the link below to find an overview of all articles.  
Highlight
from Amsterdam Smart City, Connector of opportunities at Amsterdam Smart City, posted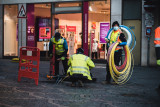 Het is druk onder de grond, al is dat bovengronds niet zichtbaar. Denk aan stadswarmte, riolering, elektriciteitskabels, glasvezel: onze ondergrond raakt steeds voller. De grote ambities van de metropool Amsterdam op gebied van de energietransitie, snel dataverkeer, mobiliteitsoplossingen, circulaire economie en klimaatadaptie, leggen alleen nog maar meer druk op de schaarse ondergrond. Samenwerking tussen de partijen die de grond in moeten wordt daardoor alleen maar belangrijker. Evenals dat we allemaal dezelfde informatie hebben over wat er precies in de grond zit. Daarom is het thema van deze Data Dilemma's: De ondergrond.
Er is veel data over de ondergrond. Bijna elke partij die er mee te maken heeft, heeft dan ook haar eigen tools ontwikkeld om de ondergrondse assets zo inzichtelijk mogelijk te maken. Het samenbrengen van al deze data en het afstemmen van agenda's over wanneer er de grond in kan worden gegaan is echter nog niet zo makkelijk.
Ceciel Kempers, bedrijfsontwikkelaar bij Alliander, zal het onderwerp inleiden met de dilemma's waar Alliander op het moment tegenaan loopt als ze de grond in moeten. Ceciel zal ook een demonstratie geven van het "Scan de Sleuf" project waarin ze zal laten zien hoe ze 3D scans kunnen inzetten bij assetregistratie.
De tweede spreker is Marco Scheffers. Marco is data-adviseur ondergrond en geo-informatie bij de gemeente Amsterdam en kan je alles vertellen over hoe Amsterdam bouwt aan een digital twin van de ondergrond. Hij zal het hebben over de 3D amsterdam tool, hoe data gedeeld kan worden tussen organisaties, en nog veel meer.
Vincent van Mierlo, strategisch adviseur bij Eurofiber, zal reflecteren op de dilemma's van Ceciel en Marco met de problematiek waar ze bij Eurofiber tegenaan lopen. Als glasvezelkabelbedrijf maakt Eurofiber veel gebruik van de beschikbare systemen als ze de grond in gaan, maar dat gaat vaak niet zo feilloos als ze hopen.
Agenda
15:45 – 16:00 Inloop
16:00 – 16:10 Welkom en introductie door Amsterdam Smart City
16:10 – 16:25 Introductie van het dilemma van de ondergrond en demonstratie van "Scan de sleuf" door Ceciel Kempers (Alliander)
16:25 – 16:35 Marco Schemmers (Gemeente Amsterdam) over de digital twin van de ondergrond van Amsterdam
16:35 – 16.45 Vincent van Mierlo (Eurofiber) geeft een reflectie
16:45 – 17:00 Q&A en panel discussie
17:00 – 17:30 Wrap-up en drankjes
Over Data Dilemma's
Data Dilemma's is een samenwerking tussen Amsterdam Smart City en het Data Lab van de gemeente Amsterdam. Vier keer per jaar onderzoeken we de mogelijkheden om data en nieuwe technologieën te gebruiken om stedelijke en maatschappelijke uitdagingen aan te pakken, met de nadruk op verantwoorde digitalisering. Het doel is om data te gebruiken om steden veiliger, schoner en toegankelijker te maken, maar wat gebeurt er met alle data die wordt verzameld? Welke dilemma's komen we tegen als we (persoonlijke) data verzamelen om de stad te verbeteren? Deze vragen zijn van belang voor iedereen: overheden, kennisinstellingen, bedrijven en het maatschappelijk middenveld. Amsterdam Smart City wilt graag met je verkennen welke beslissingen nodig zijn voor verantwoord gebruik van data.
Locatie
DataLab Amsterdam, Weesperstraat 113 BG, Amsterdam.
Catalina Iorga, Content Lead at Amsterdam Impact (City of Amsterdam) , posted
The Social Enterprise World Forum (SEWF) is a global annual flagship event that brings together social entrepreneurs, policymakers, investors, academics and other impact-led professionals to strengthen impact entrepreneurship and encourage systemic change.
This year, the main event takes place in Amsterdam Noord and online and is co-hosted by Amsterdam Impact, the City of Amsterdam's impact entrepreneurship initiative, and Social Enterprise NL.
More news