De HvA start project BASSTA naar gedragsinterventies om huishoudens ervan bewust maken of ze op de juiste manier hun afval weggooien en hoe dit te verbeteren.
Chipszakken bij plastic afval, theezakjes bij gft? Afval scheiden wordt niet altijd op goede wijze gedaan, en überhaupt nog te weinig. Dat is zonde, want goed gescheiden afval biedt kansen voor recycling en andere circulaire toepassingen. De Hogeschool van Amsterdam (HvA) start met het project BASSTA een onderzoek naar het verbeteren van het scheidingsgedrag van huishoudens, met een focus op de stedelijke omgeving.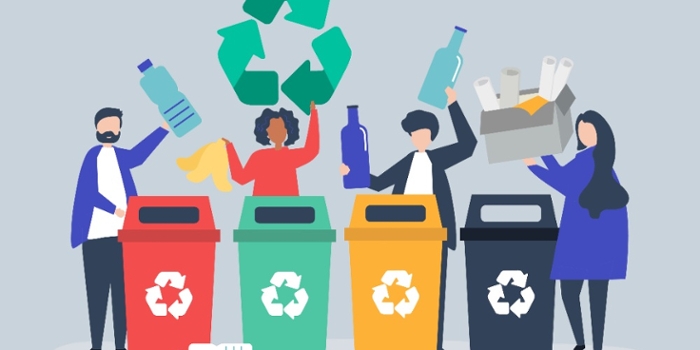 We willen in 2050 volledig circulair zijn. Voor de transitie naar een circulaire economie moet het afval dat ontstaat goed herbruikbaar zijn als grondstof voor nieuwe producten. Een goede scheiding van het afval is een belangrijke voorwaarde hiervoor. Met ongeveer 8 miljard kilo huishoudelijk afval per jaar in Nederland zorgt elk percentage betere scheiding voor enorme resultaten. BASSTA behandelt daarom zowel het verhogen van de scheidingsgraad (de hoeveelheid afval die gescheiden wordt), als het verlagen van de vervuiling van de gescheiden afvalfracties (papier, gft, plastic). Om dat te realiseren, is gedragsverandering nodig.
Automatisch gedrag onder de loep
Mensen gooien hun afval vaak op dezelfde, veelal onbewuste manier weg. BASSTA richt zich daarom op dit automatisch gedrag, vertelt projectleider Maarten Mulder. 'Door het automatisch gedrag onder de loep te nemen, vormt dit project een belangrijke aanvulling op het bestaande onderzoek naar gedragsinterventies. De nieuwe interventies die het onderzoek opleveren, moeten helpen om het gewoontegedrag te onderbreken en huishoudens ervan bewust maken of ze op de juiste manier hun afval weggooien. Ook voor de mensen die nu nog niet (graag) afval scheiden. Met een duidelijke uitleg hoe en waarom deze interventies werken, is het streven dat zoveel mogelijk Nederlandse stedelijke gemeenten hiermee aan de slag gaan. Zo kunnen ze betere bronscheiding realiseren.'
Dagboek van huishoudens
De interventies worden ontworpen en getest in nauwe samenwerking tussen industrieel ontwerpers en gedragspsychologen van de HvA. Mulder: 'Middels dagboekstudies bij bewoners thuis analyseren we op welke momenten het automatisch gedrag veranderd kan worden. In de zomer verwachten we de resultaten. Hiermee kunnen we de 'customer journey' schetsen: het in detail weergeven van het proces van afval weggooien. Vervolgens ontwerpen we de gedragsinterventies die we gaan testen in verschillende steden. Dat zal begin 2022 gaan gebeuren.'
Samenwerking binnen de HvA
BASSTA is een samenwerkingsproject van Centres of Expertise Urban Technology en Urban Governance and Social Innovation. De verbonden lectoraten Circulair ontwerpen en ondernemen & Psychologie voor een Duurzame Stad onderzoeken en ontwikkelen innovaties om tot een circulaire economie en maatschappij te komen.
Diverse praktijkpartners zijn bij het onderzoek van belang en betrokken. Gemeenten zoals Amsterdam, Rotterdam en Utrecht zijn aangesloten om met bewoners de interventies te testen. Ook helpen stuurgroepen als Rijkswaterstaat en branchevereniging NVRD het onderzoek verder. Daarnaast brengen ROVA, De Afvalspiegel en Giraf Results expertise in rondom afvalinzameling, en verspreiden Milieu Centraal en VVM de resultaten.
Heb je vragen of wil je meer weten? Benader projectleider Maarten Mulder. En blijf via de projectpagina van BASSTA op de hoogte van de ontwikkelingen.

dhr.  Ir. M. Mulder
Projectleider en onderzoeker rondom afval, duurzaamheid en de circulaire economie
m.mulder3@hva.nl | T: 0611391085
Ga naar detailpagina
Meer informatie