Smart Energy Playground For the Whole Family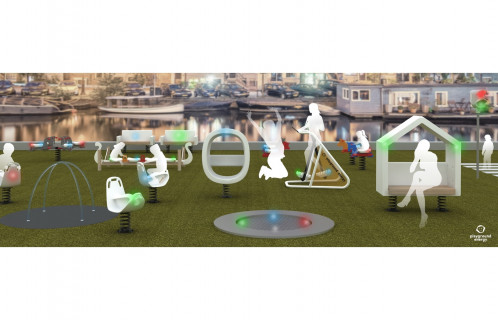 What is the goal of the project?
Problem: The amount of time kids spent online leads to increasing obesity and impaired social interaction with peers and parents.
The concept: "Green Energy Playground for the Whole Family" reinvents the playground with new exciting experiences, which bring together kids and parents. Based on the physical activity on the playgrounds children will collect points on our Mobile App and compete with each other. Augmented reality characters will entertain the kids.
In addition, the parents will have Kinetic Skywalk - Street Fitness Equipment which illuminates when a person is exercising. Connected with the application, they track the burnt calories, the walked distance, etc. They will also enjoy our Solar Benches, which illuminate in the evening creating cozy outdoor atmosphere.
Our devices allow the Municipalities to track the activity on the playgrounds.
What is the result of the project?
Fun, health and education.
Our goal is to motivate kids to play more outdoors and to learn by experience about the green energy.
Facilitating the projects planning in the city, by providing up-to-date information about the outdoor activity of its residents.
All this will be achieved after our playgrounds become operational.
Who initiated the project and which organizations are involved?
Playground Energy LTD. initiates the project.
What is the next step?
To establish our technology as an industry standard.
What can other cities learn from your project?
Fresh outside start-ups could interrupt well-established businesses like the playground manufacturing by introducing innovative solutions. This solves important problems like obesity among children and decreased social interactions.
http://www.playgroundenergy.com/
---