Smart Flow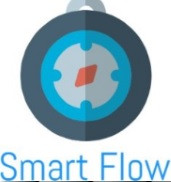 What is the goal of the project?
Driving and parking in a city like Amsterdam can be a nerve wracking experience to drivers and visitors. Smart Flow is a solution aiming to guide the flow of cars within the city in a smarter way. By sensing the city, Smart Flow provides drivers with advice for the best and cheapest places to park.
What is the result of the project?
Smart Flow aims to achieve two ultimate benefits±
1- For the drivers: To find quickly the cheapest, closest, fastest to reach parking place
2- For the city: Reduce traffic congestion, air pollution and noise
"It is estimated that about 30 percent of the cars circling a city at any given time are doing so as drivers look for parking. Aside from the frustration factor, those cars are creating traffic congestion, viewed by survey respondents as being the single most significant societal change affecting the parking industry. From an environmental standpoint, that translates to incalculable amounts of wasted fuel and carbon emissions." This is from the International Parking Institute (IPI) 2012 Emerging Trends in Parking Study.
The benefits of the the Smart flow solution to the city are:
1- Less traffic jams
2- Improved accessibility within the city
3- Less noise and urban air pollution
The first benefit should materialize within the first year after the product launch.
Who initiated the project and which organizations are involved?
The project was initiated by Amine Mouadden.
What is the next step?
The next steps are:
Securing the proper Funding
Proof of concept with a municipality
What can other cities learn from your project?
Traffic jams and air pollution are not a fatality. These urban challenges can be contained and reduced by using technologies to smartly distribute traffic across the city.
www.yazamtec.com
---