Urban Energy Innovation lab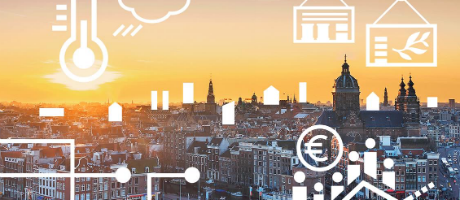 What is the goal of the project?
In order to increase the tempo of the energy transition and, with that, the economic growth, AMS developed an 'Urban Energy Innovation Lab' aimed at the creation of a public-private partnership for innovation in sustainable energy. In this context, the focus is on efficient services and technologies based on digital technological developments, energy innovations and user-driven design. AMS's ambition is to become a 10-year research programme worth 25 M whereby the programme can be extended to physical living lab infrastructure in a neighbourhood in South East Amsterdam where studies and innovations will be physically tested and whereby, on the basis of co-creation, new solutions will be used with end users by parties and knowledge institutions. The goal is to expand this to create an integral circular urban lab, including other important flows in the city: water, nutrients, materials, waste, etc.
What is the result of the project?
The Urban Energy Innovation Lab will have been launched by 2018 and agreements will have been made with the stakeholders and the consortium. A minimum of 1,000 households and 10 complex buildings in South East Amsterdam will have become part of the Urban Energy Innovation Lab in 2018 .
Who initiated the project and which organizations are involved?
http://www.ams-institute.org/category/research-programs/
---