Want to receive updates like this in your inbox?
Get notified about new updates, opportunities or events that match your interests.
Set up preferences
Maybe you will also like these updates
Highlight
from Amsterdam Smart City, Connector of opportunities at Amsterdam Smart City, posted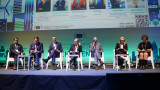 The Intelligent Cities Challenge (ICC) is one of the European Commission's largest city support initiatives supporting European cities in their green and digital transitions. ICC delivers knowledge and support services to cities and their local economies to address two major challenges: making the transition to a net-zero economic model, while enabling social inclusion and sustainable development for every EU citizen.
Cities learn how to address these challenges through Local Green Deals: integrated, multi-disciplinary action plans to lead the green and digital transition across sectors from the built environment, urban mobility and renewable energy systems to tourism or small retailers. Cities become members of a vibrant network, gain access to advisory services, innovation and sustainability management techniques, cutting-edge technology and training and get inspiration and advice from peers and mentor cities.
Building on the success of the previous edition of the ICC programme (2020-22) and Digital Cities Challenge (2017-19), the ICC will now enter Phase 2!
Amsterdam as a Mentor City
Like previous years, Amsterdam has been selected to join the support programme as a mentor city. The city will play a leading support role by guiding the 64 core cities as they embark on their two year journey to create impactful strategies and develop innovative solutions that will place the cities at the forefront of the green and digital twin transition through Local Green Deals. A nice compliment, allowing the Amsterdam Region to share their experiences and learnings from setting up Local Green Deal initiatives over the past years.
The Intelligent Cities Challenge Strategy City Lab: Accelerating the Twin Transition (November 2023)
On 23 and 24 November 2023, over 200 people - a mix of Intelligent Cities Challenge (ICC) core and mentor cities, political leaders and representatives from European institutions gathered for the first time in-person to discuss the status quo of Twin Transition. Through examples and best practices, attendees had the honour to hear from over 30 speakers as they shared insights into collaboration methods, Local Green Deals, climate ambitions, digital transitions and more across the course of 20 sessions.
Amsterdam Smart CIty's Leonie van den Beuken travelled to this gathering in Brussels as one of the representatives of the Amsterdam Region. She summarized her trip as follows:
This EU program helps cities from north to south, east and west to connect, share and learn. A much needed interaction, as we all try to improve the quality of life of our citizens. We all struggle with the ever rising cost of living. And we all want to get our cities to become more sustainable.
None of this comes easy, but we all know that local collaboration plays a key role. Building local coalitions between government, businesses and citizens is one thing, but how do we make sure these so called coalitions of the willing actually become coalitions of the doing?
Some of the learnings we shared from the Amsterdam Region are; the need for political support and the importance of trust and respect.
Local political leadership will inspire and guide society and entrepreneurs to invest and contribute. However, make sure pilotical support doesn't evolve into political ownership. When that happens, societal parties and businesses tend to step out the coalition.

Take the importance of trust and respect seriously. You need to show long term commitment, take time to create understanding between parties. Take competition between participating SME's serious and define together how to handle this together. Create a workflow in which smaller parties are allowed to participate less intense but sill feel incorporated.
We'll keep you up to date on our participation in future gatherings and results from ICC Phase 2. Want to know more? Check https://www.intelligentcitieschallenge.eu/
Pelle Menke, Communications and Programme officer Mobility at Amsterdam Smart City, posted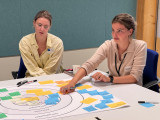 CIRCOLLAB, a network in the Metropolitan Region of Amsterdam aimed at accelerating the circular transition, is developing a method to apply systems thinking and eco-centric approaches in organisations. While developing the right workshop methods, they are hosting meet-ups to discover what it takes for organisations to look beyond their organisational boundaries and feel part of the larger system. In this worksession, our Demoday participants were invited to apply value chain- and systems thinking within a Almere Pampus case, and articulate their feedback on the workshop methods.
The case of Almere Pampus
The development of Pampus is a great example to use for experiments on circular value systems as there is a fresh clean sheet to start off with. Pampus can be used as a showcase and be a leading international example for sustainable area development by designing the area in a circular, climate-adaptive, nature-inclusive and energy-neutral way from the start, and by investing in necessary and smart above- and underground systems for energy, water, soil, food and waste early on. The two themes used during this exercise were the use of biobased building materials from hemp, and a transport system for local groceries.
Value Mapping
After an introduction by Melanie de Vries (Windesheim), Quirine Winkler (Windesheim) and Darina Huinck (HvA), the participants were split into two groups, each with their own Pampus Eiland topic. We were invited to make use of a 'Value Mapping tool for sustainable business modelling (Bocken et al., 2012) to explore the value chain for our case. After the identification of the case its 'purpose', there were a few steps to walk through with the group and enrich the blank canvas:
First of all, we identified some 'values created', in line with the purpose of the case. Think of; financial profits, healthier living conditions, sustainable building materials etc.
Secondly, we identified all stakeholders concerned with the value chain. They could either be connected to the case because of their influence or because they're affected by it. Think of; businesses, societal actors, nature, policy etc.
Realizing the goal of the chain also has its negative side effects. Think of; the need for new knowledge and training, the abandonment of efficient production chains etc.
The final two steps involved identifying the missed values and (the related) value opportunities. The group of stakeholders related to the value network could take on these value opportunities if they work together. For example; the need for new knowledge and training could create opportunities for new education business models, and; if the creating of new building materials requires more technical educated producers, they could be rewarded with discounts or financial help on housing in these newly created neighbourhoods.
When all steps have been completed, you can actually look back at your input on the value map and make some adjustments if necessary. The initial purpose of the value chain for example, could be different now that all types of values and stakeholders have been identified.
Insights
Collaborating on an innovation case with the help of such methodology, made the participants aware of the complexities when considering a complete (eco)system. It emphasised the importance of considering the system and its stakeholders, and the variety of (surprising) ways in which value can be created within its network.

Identifying the 'values destroyed' and taking on the 'value opportunities' would be of importance in real-life scenarios. But who should be responsible for what? This made the group aware of the importance of independent- and network organizations to make networks and systems flourish.

During this exercise the groups were randomized. However, it became clear that each individual has their own expertise and interests and therefore has a personal perception or view of the system its analysing. The variety of values and stakeholders you could identify seem endless, and your personal perspective will determine what you focus on. It is therefore important to determine the composition of the group with which you will shape such a value map.

And last but not least, Melanie, Quirine and Darina received feedback on this workshop from the participants. They will use this feedback to further develop this method and workshop, before they invite regional parties to take part in their Learning Network Circular Collaboration.
Would you like to know more about CIRCOLLAB or their Systems / Value Mapping workshops? Get in contact with Melanie (m.h.devries@windesheim.nl) or CIRCOLLAB (circollab@hva.nl). Are you working at -or with- one of our partner organisations and would you like to organise a worksession at one of our Demodays? Get in touch with me! pelle@amsterdamsmartcity.com
Sophie van der Ploeg, Community Manager & Program Lead Digital at Amsterdam Smart City, posted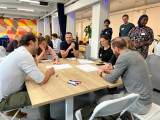 When working together on transitions, it is important to be aware of and sensitive to the impact of power and systemic oppression in participatory processes. Within the Amsterdam Smart City network, the question of inclusion and civic participation, is often brought up in worksessions and discussions. However, we often lack the tools to find the bottlenecks and really include all important beneficiaries.
Therefore, we asked our valued partners Kennisland and DRIFT to lead a workshop about Power in Transitions at Demoday #20 on May 16. Dave van Loon and Faduma Mukhtar (Kennisland) together with Aron Teunissen (DRIFT) taught the participants more about power in transitions, based on the Power Literacy Framework and Field Guide from Kennisland. This guide describes five different forms of power and offers a set of tools for professionals to become more aware of power dynamics in their work.
The five forms of power
According to the Power Literacy Guide by Kennisland, there are five forms of power in design process. If you want to learn more about this, you can download the Power Literacy guide here. The five forms of power are:
Privilege: The type of power you get from a social relation whereby you benefit due to the social group you belong to, at the expense of another social group. It is an unearned advantage and often invisible to those who have it.
Access power: The ability to influence who is included in and excluded from the design project and process.
Goal power: The ability to initiate the design project to begin with, as well as the ability to influence decisions related to framing the problem, goals, and structure of the design process.
Role power: The ability to influence the roles that different stakeholders take on. This includes the ability to assign any roles or titles in the design process, as well as influencing the role each stakeholder plays in making decisions.
Rule power: The ability to influence the way that those in the design process will work together. It includes the ability to influence what is considered normal, what is allowed and what isn't, how actors will communicate with each other, what language is used, and beliefs about what types of knowledge are valid.
Power check
After a theoretical introduction of the five forms of power, we split into smaller groups to perform a so-called power check for different Amsterdam Smart City projects, such as the Mobility Challenge and "Wat mensen beweegt". Using this power check, the participants looked at access power and goal power. We identified all actors affected by the project and indicated which actors were not involved. The different actors were then assigned a role in different stages of the process: listener, co-creator, advisor, partner or director.
Most important take-aways
The goal of this exercise was to create more awareness about involving target groups in different stages of the project. The main take-aways were:
The role for the for the 'benefit group', the people that are impacted by the project, is often too small. If beneficiaries are involved, this often happens in the last stages of the project. In this phase in the project, it is often more difficult or not possible at all to influence decision-making;

To create equal power, some parties have to 'give away' (some of) their power;

Truly inclusive work takes time, effort and money. It is not something takes place overnight;

Awareness is half of the battle: make the topic of systemic oppression in participatory process a structural part of your (work)process).
Want to learn more about power in transitions? Read more.
More requests