Stay in the know on all smart updates of your favorite topics.
Mobility and transport are crucial for a city to function properly. Amsterdam is considered the world capital of cycling; 32% of traffic movement in Amsterdam is by bike and 63% of its inhabitants use their bike on daily basis. The number of registered electrical car owners in the Netherlands increased with 53% to 28.889 in 2016. Since 2008 car sharing increased with 376%. However, this is less than 1% of the total car use. Innovative ideas and concepts can help to improve the city's accessibility, so share your ideas and concepts here.
Adriaan van Eck, Implementing IoT & Smart Energy , posted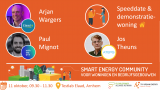 Join our speed date and engage with 3 great speakers at the first in-person Smart Energy Community meetup on October 11th!
Topics Smart Energy Community October 11:
Home Energy Management Systems in practice
Now that we are installing more and more heat pumps and EV chargers in homes, there is more and more need for energy management. How does this work? How to deal with cyber security and what role do protocols play? ElaadNL developed its own showcase house where this is put into practice. Arjan Wargers of Flexiblepower Alliance Network & ElaadNL discusses the lessons learned.
Power pitch ATEPS: Energy and storage
ATEPS develops, builds and supplies systems based on batteries that store energy. Jos Theuns (ATEPS) explains how they make storage of sustainable energy accessible, safe and attractive through smarter management of electrical energy. Due to the modular construction of ATEPS systems, they are suitable for both small and larger customers.
Power pitch withthegrid: Teleport
How do you connect PV, wind, battery, EV chargers and heat pumps without losing your mind in all protocols and without cloud lock-in? Paul Mignot (Withthegrid) discusses their new innovation Teleport. This gives customers maximum insights and control over their assets in minutes.
Speed dating, networking & visit demonstration house
In the second half, connecting with other professionals is central. During these speed dating sessions, you will get to know fellow innovators, share project ideas and explore opportunities for collaboration. There will be ample opportunity for discussion after the meeting. At the same time, you can take a tour of ElaadNL's new demonstration home for smart energy services, where various smart devices are optimised for home energy management.
NEMO Science Museum, posted
Na twee zomers kamperen in je tentje in Nederland wil je eindelijk weer eens op een verre vliegvakantie. Maar je schaamt je om het aan anderen te vertellen. Wil je lang douchen, maar vindt jouw partner dat niet goed voor het milieu? Twijfel jij ook weleens aan wat je nou echt kan doen voor een beter klimaat en ben je daar soms gestrest over? Of valt het in jouw ogen allemaal wel mee? In de inspiratiesessie Eerste hulp bij klimaatstress gaan we in gesprek over persoonlijke ervaringen met klimaatverandering. Houd je hoofd koel en ontdek samen met expert Jeanine Pothuizen hoe je het beste omgaat met emoties rondom het klimaat.
Foto: DigiDaan
NEMO Science Museum, posted
Klimaatverandering is de grootste bedreiging van het leven op aarde. Het is dan ook logisch dat de gevolgen soms zorgen voor een pessimistisch gevoel. En hoe meer je je in het onderwerp verdiept, des te sterker dat gevoel kan worden. In deze lezing legt Ruben Jacobs uit hoe we zover zijn gekomen en waar onze verantwoordelijkheid ligt. Maar hij vertelt vooral over hoop in tijden van klimaatverandering en welk verhaal we onze kinderen straks kunnen vertellen.
Foto: Keke Keukelaar
Stay up to date
Get notified about new updates, opportunities or events that match your interests.
Set up preferences