Stay in the know on all smart updates of your favorite topics.
Mobility and transport are crucial for a city to function properly. Amsterdam is considered the world capital of cycling; 32% of traffic movement in Amsterdam is by bike and 63% of its inhabitants use their bike on daily basis. The number of registered electrical car owners in the Netherlands increased with 53% to 28.889 in 2016. Since 2008 car sharing increased with 376%. However, this is less than 1% of the total car use. Innovative ideas and concepts can help to improve the city's accessibility, so share your ideas and concepts here.
Jan Woering, Manager at Johan Cruijff ArenA, posted
Our Innovation Tour will take you into the World of Innovations.
The Johan Cruijff ArenA is a host Stadium for the UEFA EURO 2020 and is one of the most Innovative and Sustainable Stadiums in the world. A Stadium is a place where people come together, for Leisure, Business or Sports. The Johan Cruijff ArenA is a mulitfunctional building that, with thousands of visitors at once, becomes a small, smart city during events. This makes the Johan Cruijff ArenA a perfect place for Innovation; the Stadium of tomorrow.
Our Innovation Tour will take you into the world of Innovations. we will show you how we've achieved becoming a sustainable, innovative stadium together with our partners.
During the Tour we will answer the following questions;
How do we create the best fan Experience?
How do we manage an event day with 55.000 people visit ArenA?
How do we get 55.000 people safe and, secure in and out the ArenA?
How do we use batteries from second hand cars for our energy?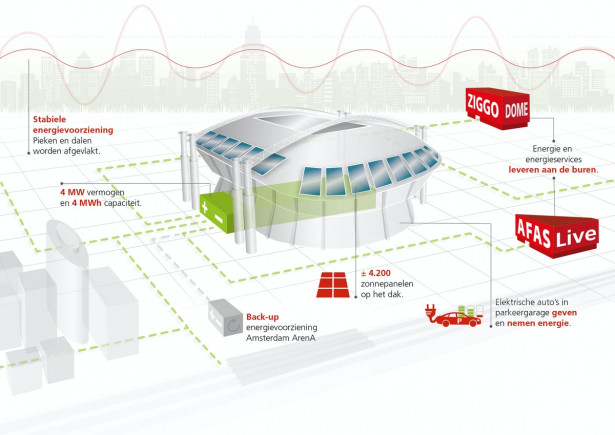 Mara de Pater, Master Student at Wageningen University and Research, posted
Take a peak into the new metro line
From 2017, the North/South metro line will run 9.7 kilometres fromBuikslotermeer in the north of the city to Amsterdam Zuid station in the south.At Stationsplein 7, Amsterdam, the visitors center is located. Here you willget information on the status of the project and which innovative techniquesare used to build a tunnel right below the city centre. From our visitorscenter, also tours are provided. If construction work allows, the tour enters the underground building site. You can reserve a tour via phone or online. Photo: Gé Dubbelman