Stay in the know on all smart updates of your favorite topics.
Jochem Kootstra, Lecturer at Amsterdam University of Applied Sciences, posted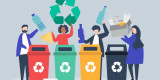 In steden zonder kliko's of afvalinzamelingspunten in de buurt is afval scheiden niet voor iedereen makkelijk te noemen. En in een klein appartement op vier hoog heb je nauwelijks plek voor alle benodigde prullenbakken. De Hogeschool van Amsterdam (HvA) doet met BASSTA onderzoek naar betere afvalscheiding door huishoudens in de stad.
Met deze studie kunnen we achterhalen hoe stedelijke huishoudens hun afval scheiden, waar het nog niet zo goed gaat en hoe we dit kunnen verbeteren met gedragsinterventies. Met een duidelijke uitleg hoe en waarom deze interventies werken, is het streven dat zoveel mogelijk Nederlandse stedelijke gemeenten hiermee aan de slag gaan. Met ongeveer 8 miljard kilo huishoudelijk afval per jaar in Nederland zorgt elk percentage betere scheiding voor enorme resultaten.
Dagboekstudie: Hoe goed scheid jij thuis je afval?
In een doe-boek worden de resultaten bijgehouden van leuke, korte opdrachten die iets zeggen over afvalgedrag. Hierin wordt ook aangegeven wat (on)prettig of (on)handig is rondom de afvalinzameling bij jou thuis. Dat is nuttige informatie voor de gemeente en afvalinzamelaar, die kunnen daarmee hun werk verbeteren.
Een vereiste is wel dat je op een plek woont waar je geen eigen kliko's hebt, maar waar je wel afval kan scheiden door gebruik te maken van gezamenlijke voorzieningen zoals ondergrondse containers.
Zin gekregen om mee te doen?
Geef je op en krijg eind mei het doe-boek thuisbezorgd. De onderzoekers zullen dan ook nog iets meer uitleg geven. Je mag zelf kiezen op welk moment je de opdrachten doet. Na een week komen de onderzoekers het doe-boek gewoon weer ophalen. Heb je nog vragen? Mail projectleider Maarten Mulder of laat een berichtje achter in de comments.
Serena Weaver, Founder at Table Sage, posted
Hello ASC community!  We are a local start-up working to increase Conscious Dining through a new way of searching for and rating restaurants.  It is also our goal to go beyond the digital by working on local impact projects.
Recently, we surveyed the 150+ restaurants in our database on the effects of Corona on their sustainability practices, specifically in regards to the increase in packaging waste brought on by takeaway/ delivery services, and published an article on our findings here:  https://www.table-sage.com/content/articles/amsterdam/restaurants-need-support-to-continue-sustainability-efforts-during-covid-19
We would love to collaborate with larger players, either 1) in further quantifying these effects, and/ or 2) in helping restaurants move to ecopackaging on a wider scale.  Are you or someone you know interested in partnering to make moves in this space?  We have a team of 6-8 able to support; more about us can be seen on www.table-sage.com.
Jochem Kootstra, Lecturer at Amsterdam University of Applied Sciences, posted
Do you know a great example of high density living environments built within the last 30 years? Share your knowledge and contribute to the creation of an open repository via Crowd Creation. To be truly exemplary, the area should include a mixture of functions (at least some of them high-rise) where the physical fabric retains a human scale at street level despite the high density.
You may wonder who's asking for and compiling this information: the Chair of Spatial Urban Transformation at the Amsterdam University of Applied Sciences is committed to building an open-access repository. Sharing best practices across the globe is becoming increasingly vital, especially as many of our western cities are on the eve of unprecedented densification. As a humble thank you for helping to guide this societal challenge, they've allotted 12 rewards for contributors. Click here to submit a project.
Societal Context
Like many of our Western cities, Amsterdam is on the brink of intensive urban densification. The metropolitan area of Amsterdam plans to add 100,000 new dwellings, mostly within the existing urban fabric. Compact studio apartments and new situational typologies of high-rises are part of the program, which will increase the densification even further. How are we to retain a human scale in these new high-density environments, especially at the street level where our social fabric is shaped? This calls for a new array of examples and precedent studies of successful existing "Great High Density Environments." What are their design properties and how are they programmed? How do they succeed in retaining a human scale?
Amsterdam - Image Courtesy of Amsterdam University of Applied Sciences
Sensing Streetscapes Project
These questions are central to the Sensing Streetscapes Project initiated by the Chair of Spatial Urban Transformation at the Amsterdam University of Applied Sciences (AUAS). In a consortium of spatial design offices and clients of large scale projects, action research is explored along three lines. First, building on the classic works of Allan Jacobs, Jan Gehl and the like, six of the most-used reference locations for these new environments are deconstructed by research through design. Second, neuro-architectural technologies (eye-trackers) are deployed to uncover the visual impact of the applied design principles: What are the patterns? Do these design solutions indeed mitigate the high density and intensity to a human scale on the level of the streetscape? Finally, an algorithm is developed to trace the most suitable best practices via AI. That's where you come in.
Cassilis Road, London - Image Courtesy of Amsterdam University of Applied Sciences
Repository of Great Examples by Crowd Creation
Some high profile examples of great high density environments are well known, like in Vancouver, Toronto, London, Manchester, Amsterdam, Hamburg, and Manhattan. Yet what lesser-known examples of Great High Density Living Environments are out there for us to learn from? Share your knowledge and contribute to the creation of an open repository via Crowd Creation.
In order to frame the search, a list of desired characteristics:
Residential environment in an inner city area
Built within the last 30 years – or about to be 'opened' soon
Built for High Density with some high-rise buildings
Success in creating a human scale at eye-level on the street
Some level of mixed functions, green design, etc. - anything that increases the livability of the environment
Click here to submit a project.
Hardman Street, Manchester - Image Courtesy of Amsterdam University of Applied Sciences
You are, of course, allowed to offer one of your own projects as an example. The deadline for submissions is January 29th, 2021 and as a modest gesture of thanks for helping address this societal challenge, 12 rewards are available to contributors. Out of the projects that fit the characteristics, consortium members will select the contributors who delivered either multiple great examples, surprisingly interesting examples, or in-depth descriptions and pictures. 12 entrants will be randomly selected to be rewarded:
2 will receive personalized book selections on this topic (favorites of the Chair)
6 will receive an Amazon gift card with a value of €50
4 will receive a ticket to the Media Architecture Biennale 2021
Winners will be notified personally
Visit the results at https://sensingstreetscapes.com. The website will remain open afterwards, so feel free to keep sending your examples!