Stay in the know on all smart updates of your favorite topics.
Trey Hahn, Founder , posted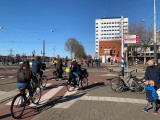 The excursions are delivered as a partnership between the Urban Cycling Institute (UCI) and Bicycle User Experience (BUX).
This two hour excursion brings you to key innovation sites in the central core of Amsterdam, starting at the Nieuwmarkt square in the city center, and ending at the Rijksmuseum. We curate stops at select sites that are representative of broader trends taking place in the city. We discuss changing directions of how the city views cyclists and the street, we show you best practices and- most importantly 😉 – we promise to challenge your preconceptions of how to plan for a cycling city. At the end, we provide different avenues for continued engagement and learning with us.
The study excursions take place from 16:00-18:00 most Saturdays in July and August*. The cost is €50 per person. There are 15 open spots per excursion. Participants need to arrange their own bicycle to take part.
Dates: July: 23, 31*(July 31st is a Sunday)
August: 6, 13, 20, 27
For full information and sign-up, visit the following link:
Amsterdam Smart City, Connector of opportunities at Amsterdam Smart City, posted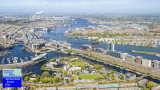 Do you want to connect, learn, and exchange experiences with Amsterdam Smart City representatives? Our programs match the needs of any local, national and international stakeholder who is interested in discovering Amsterdam's innovation ecosystem.
One of our roles is to distil key learnings from urban innovation projects in the Amsterdam metropolitan region and share those. Through our programs we also learn from other cities and their experiences.
We've made a selection of our most popular programs:
1. Smart City the Amsterdam Way 
We give you an overview of Amsterdam Smart City's program, governance and key projects. It's a light way to get introduced to it all in 1,5 hours and we can also offer this online. Cost: From €300 per group.
2. Amsterdam Smart City Answers Your Questions 
Ask all your questions about Amsterdam Smart City and get advice on your Smart City Project or Program. Meet our representative online or face to face to get the insight you've been missing. Cost: From €200 per group.
3. Amsterdam Smart City Deep Dives 
Go on a Deep Dive with Amsterdam Smart City and get to the bottom of the energy, mobility, digital city or circular economy transition during this customized 2,5 hour session with multiple experts from Amsterdam's ecosystem. Cost: From €500 per group.
Where do the Amsterdam Smart City Programs take place?
Most programs take place, or at least start at, the Smart City Lab on the Marineterrein Innovation District. This is a "small space for big ideas" where we showcase examples of smart city solutions from Amsterdam. The Smart City Experience Lab is also a workplace where Amsterdam Smart City partners meet and collaborate. Groups visiting the Experience Lab can also visit the Marineterrein Amsterdam Living Lab on their own or as a part of an organized program.
Questions
Questions or looking to organize a different or customized program? Send an email with your request to cornelia@amsterdamsmartcity.com.
Stay up to date
Get notified about new updates, opportunities or events that match your interests.
Set up preferences