Stay in the know on all smart updates of your favorite topics.
Rolinka Kok, Event Manager at Amsterdam Economic Board, posted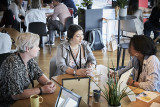 Have you been in a room where all the possible solutions to your recruitment and CSR needs are in one place, tailored to your company?
Whether you are looking to hire juniors (software engineers, data scientists, security specialists etc), diversify your recruitment pipeline, upskill your employees or you are at the stage where you would like to contribute to solving talent and skills shortages, TOMAS will make sure you find your answers.
There are 69 ways in the region of Amsterdam to benefit from the local tech talent ecosystem. Finding the right talent, project or partner is time and resource consuming. TOMAS creates opportunities for businesses to meet the key educators, programs and projects that fuel the ecosystem with (diverse) tech talents.
Within 2.5 hours you will get the most recent picture of the local talent development ecosystem, have the opportunity to pitch your needs to a wide range of (pre-selected) talent development initiatives, engage in the strategic discussion and have 1-on-1 matchmaking with the local heroes.
Some of the TOMAS initiatives: Codam, Techgrounds, DeeploAI, Codaisseur, Equals, Make IT Work, Hack Your Future, Techionista, BIT, Code to Change, Iron Hack, TechMeUp, HelloMentor
Wouter Mulders, Communications Coordinator at Drift, posted
Pioneers struggling with uncertainty & controversy when working on sustainability transitions: you are not alone. Whether you're facilitating transition experiments around nature based solutions, setting up an innovative project for citizen participation in energy or just eager to learn about reflexive monitoring, our Reflexive Monitoring course will provide you with valuable new approaches and insights.
In this 3-day course, dr. PJ Beers (DRIFT) and dr. Barbara van Mierlo (WUR) will guide you through the ins and outs of reflexive monitoring.
Stay up to date
Get notified about new updates, opportunities or events that match your interests.
Set up preferences