Stay in the know on all smart updates of your favorite topics.
Wouter Mulders, Communications Coordinator at Drift, posted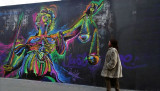 Do you believe, like us, that sustainability and social justice are key to fundamental change? 'Just Sustainability Transitions' is a six-month online course that provides the tools and inspiration you need to create your own transition strategy.
The Just Sustainability Transitions is a peer-learning course from DRIFT, The Dutch Research Institute for Transitions. It draws from our latest action research insights on justice, sustainability transitions and social innovation.
How can we facilitate and accelerate societal transformation? And how can we really bring in diverse allies to drive systemic change? This course helps you find answers to such questions by combining state-of-the-art research with deep critical reflection and applied action learning. We provide a diversity of perspectives that help you discover what works for you.
Special attention is given to tools and methods with which you can organise a process of transition in your area, organization or sector.
 
Your guides on this journey will be young and more seasoned DRIFT experts, all active in transitions research, (government) consultancy and education. They specialise in diverse domains such as climate policy, energy, agro-food, inclusiveness & participation, sustainable urbanism and the circular economy.
Stay up to date
Get notified about new updates, opportunities or events that match your interests.
Set up preferences