Stay in the know on all smart updates of your favorite topics.
Amsterdam Smart City, Connector of opportunities at Amsterdam Smart City, posted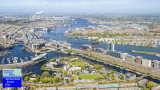 Do you want to connect, learn, and exchange experiences with Amsterdam Smart City representatives? Our programs match the needs of any local, national and international stakeholder who is interested in discovering Amsterdam's innovation ecosystem.
One of our roles is to distil key learnings from urban innovation projects in the Amsterdam metropolitan region and share those. Through our programs we also learn from other cities and their experiences.
We've made a selection of our most popular programs:
1. Smart City the Amsterdam Way 
We give you an overview of Amsterdam Smart City's program, governance and key projects. It's a light way to get introduced to it all in 1,5 hours and we can also offer this online. Cost: 200 euro.
2. Amsterdam Smart City Answers Your Questions 
Ask all your questions about Amsterdam Smart City and get advice on your Smart City Project or Program. Meet our representative online or face to face to get the insight you've been missing. Cost: 150 euro.
3. Amsterdam Smart City Deep Dives 
Go on a Deep Dive with Amsterdam Smart City and get to the bottom of the energy, mobility, digital city or circular economy transition during this customized 2,5 hour session with multiple experts from Amsterdam's ecosystem. Cost: 550 euro.
Where do the Amsterdam Smart City Programs take place?
Most programs take place, or at least start at, the Smart City Lab on the Marineterrein Innovation District. This is a "small space for big ideas" where we showcase examples of smart city solutions from Amsterdam. The Smart City Experience Lab is also a workplace where Amsterdam Smart City partners meet and collaborate. Groups visiting the Experience Lab can also visit the Marineterrein Amsterdam Living Lab on their own or as a part of an organized program.
Covid-19 restrictions
Due to government-imposed regulations in response to the ongoing Covid-19 crisis, we are currently only able to host programs online.
Questions
Questions or looking to organize a different or customized program? Send an email with your request to cornelia@amsterdamsmartcity.com.
Zéger Nieuweboer, Founder / Teacher at Learningisgrowing.nl, posted
THE YIMBY Yes-In-My-Back-Yard EXPERIENCE! is a bottom-up movement aiming at small scale food growing in cities. THE YIMBY EXPERIENCE! started in 2013 in the city of Arnhem in the Netherlands. The YIMBY EXPERIENCE! is expanding with the support of the city of Arnhem and local sponsors.
Eight years of THE YIMBY EXPERIENCE! shows the empowerment of citizens.: Citizens who started with a small food platform have grown to larger urban food growers. Citizens are more aware of the relation between season and growing and adapt their buying of seasonal food in the supermarket. Citizens gained green growing knowledge and have more green connections in their neighbourhood.
Interested? Take a look at the following YouTube film (2 minutes)
https://youtu.be/0_JWmuhwyR4
Emma van der Veen, New business development | Product Management at Philips, posted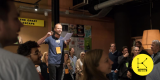 We offer a variety of custom made programs, including presentations and personal tours.
The Knowledge Mile is a living lab in Amsterdam that runs from the Amstelplein to the city hall of the municipality of Amsterdam. The Wibautstraat and Weesperstraat are the two main streets at the centre of this area. Both are well known for the urban challenges they face, such as high traffic volumes, flooding and air pollution. The area is also known as a world-class knowledge cluster with the campusses of the Amsterdam University of Applied Sciences, the University of Amsterdam and Amsterdam University of Arts.
The Knowledge Mile is a place to establish crucial connections and to achieve productive partnerships, fruitful networks and creative interaction. With a community of 30.000 residents, 60.000 students and almost 200 organisations, hotels, museums, social and municipal institutions together we aim to improve the quality of life in the area, by improving and sharing knowledge and facilitating new connections at our Meetup's. This is a space to interact and share ideas.
The Knowledge Mile is also a business investment area where all organisations join forces to improve the work/life climate in the field of joint investments in communication/marketing, security, viability and physical movement.