In December 2018, the first 'Demo days' took place for partners of Amsterdam Smart City. The Demo day is part of a series and is intended to present various innovation projects to each other, to put questions on the table, to share dilemmas and to involve more partners in a project.
We also use these moments to propose new actions and discuss the efforts of the various partners. During the Demo days, four teams were formed and work sessions took place in these four teams.
Here is an overview of the projects we're working on at the moment:
Mobility
Matthijs Handlogten (PostNL) and Jasper Caerteling (Arcadis) have jointly started a project to improve road safety around primary schools in the city. Matthijs: "In collaboration with Arcadis, we tried to link traffic safety around primary schools to PostNL's operations. This turned out to be the wrong assumption: road safety around primary schools is a problem, but PostNL is not the problem owner. Now we are looking at traffic disruption and efficient delivery in the city. This actually fits in better with PostNL's operations: collecting and delivering parcels and letters.'
Servaz van Berkum (Pakhuis de Zwijger) called for mobility issues to discuss during WeMakeTheCity, the festival that makes cities better, taking place in June 2019.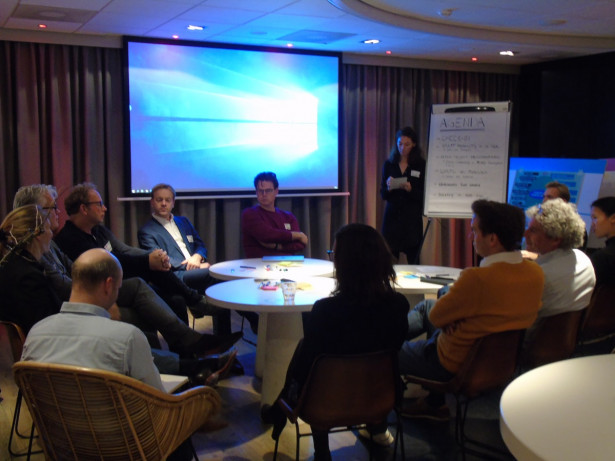 Digital city
During the UEFA Euro 2020 the Johan Cruijff ArenA, the police and the City of Amsterdam want to secure safety in new, innovative ways. They discussed how to formulate the problem, which network partners can contribute, what the public values are in the project and which solution directions are suitable. In doing so, the team touched upon the principles of Tada and challenges this brings in many of our partners' projects and activities.
The Municipality of Haarlemmermeer gave an update of projects in the municipality, including a project on Smart Parking. One of the challenges might be that parking registration in a shared regional or national database could work better than per municipality.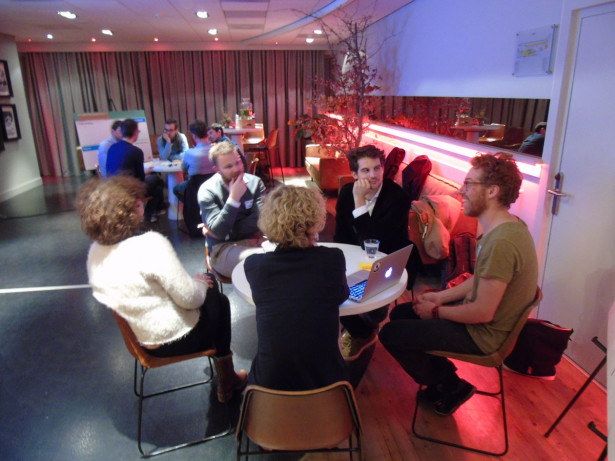 Circular city
Several partners such as the Municipality of Amsterdam and the Amsterdam University of Applied Sciences are joining forces around the development of an upcycle center . Iris van Wijk (Amsterdam University of Applied Sciences (Urban Technology)) is looking for more practical issues concerning the upcycle center that can be used by students of the minor Circular City. Her colleague Liselotte van Dijk is currently collecting data on various residual waste streams in the region and will be making a clear overview of this.
The City of Amsterdam wants to develop a new circular district at IJburg and achieve this development with intensive public participation. But how to do this without having actual residents living there yet? So, in the development of IJburg, circular developments, area development and participation come together. Jaap Koen Bijma from the CTO of the Municipality of Amsterdam explained this question. An existing neighbourhood could be interesting to learn from when it comes to the view of active residents groups.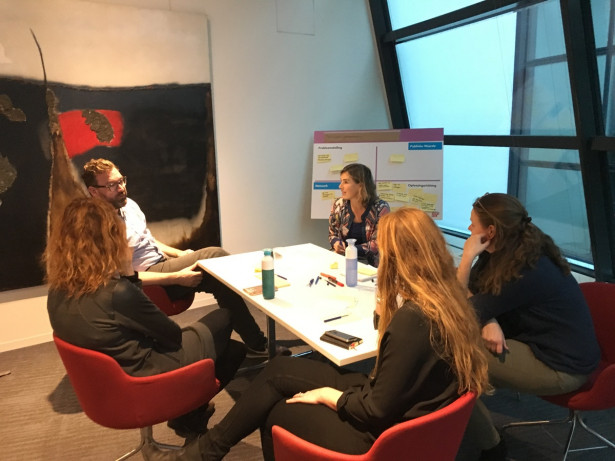 Energy
Arcadis, Alliander and the municipality of Haarlemmermeer started an investigation around the bottlenecks in the realization of heating homes with residual heat from data centers. Partial follow-up research was done by Arcadis (focusing on Aquifer thermal energy storage installations). Milan Brussee and Bas Wolfswinkel researched the use of shared thermal storage systems and the financial possibilities this can offer. Result: a direct connection with potential projects of the City of Amsterdam and a highly appreciated subject by the other participants.
How to better support the frontrunners in the energy transition (residents) towards a sustainable neighborhood? To take a first step, the Amsterdam Smart City Baseteam, 02025 and Kennisland formulated a first assignment for an intern to further explore this topic. Crucial questions seem to be about bottom-up organizational strength, coordinated support in a particular housing block, more clarity on the needs of bottom-up initiatives and of course finance.
The Living Roadmap will be a platform that streamlines initiatives in the energy transition. We investigate how the need of an overview, connection and demarcation can be solved by a digital tool. The Living Roadmap consists of three parts: a monitor, a decision framework and innovation support. But how can partners contribute to the development? And how could ASC partners make use of the Living Roadmap?
'Warm building' technology can potentially help to get rid of natural gas in the Amsterdam Metropolitan Area. The City of Amsterdam, the MRA energy program and Arcadis will further investigate this.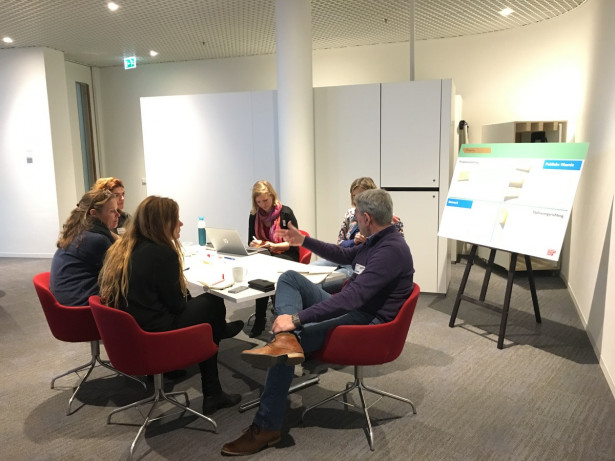 What do you think about these projects and developments? Are you interested to get to know more about one or more of these projects? Or do you have any questions? Please drop a line below!
Check the video of the day (in Dutch):