Every week I present this community with one of the smart energy solutions that I came across during conversations I have with innovators. These solutions may help Amsterdam realise the energy transition in a more effective or efficiënt manner.
For this first post I will focus on a mindblowing invention. it's full-on Star Trek, but hardly fiction. Entrepreneur Adriaan Koene of Alpha Solutions B.V. gives us: ANCPLASMA. (In Dutch)
For this first post I will focus on a mindblowing invention. it's full-on Star Trek, but hardly fiction. Entrepreneur Adriaan Koene of Alpha Solutions B.V. gives us: ANCPLASMA. (In Dutch)
Wat is de oplossing?
Eerst het concept plasma. Plasma is een aggregatietoestand. We kennen aggregatietoestanden traditioneel als gas, vloeibaar en vast. Plasma voegt hier een vierde variant aan toe. Plasma wordt bijvoorbeeld gebruikt in tv-schermen, zit verstopt in tl-buizen, en wordt ingezet als een hitteschild voor terugkerende ruimteschepen.
In de afgelopen vier jaar heeft Alpha Solutions ANCPlasma ontwikkeld. Dit plasma scheidt stoffen tot op atoomniveau en is in staat deze in een nieuwe toestand te brengen. Dit creëert een nieuwe stof. Volkomen krankzinnig. En naast krankzinnig is dit in wezen een ultieme circulaire uitvinding: alle waardevolle bouwstenen in huishoud- & industrieel afval worden opnieuw gebruikt. Alpha Solutions kan met dit plasma ammoniagas en grafeen produceren. Wat zijn ammoniagas en grafeen?
Ammoniagas kan als duurzame energiebron gebruikt worden. Op ammoniagas kunnen auto's rijden, schepen varen, vliegtuigen vliegen en cv-ketels, gasfornuizen en elektriciteitscentrales branden. En dit nagenoeg zonder enige aanpassing aan de motor of installatie.
Grafeen is 200 keer sterker dan staal en kan een uiterst licht constructiemateriaal zijn voor auto's en vliegtuigen. Die worden hierdoor vele malen lichter en daardoor wordt weer energie bespaard. Daarnaast is het zeer geschikt voor elektriciteit, transport en in de chipindustrie.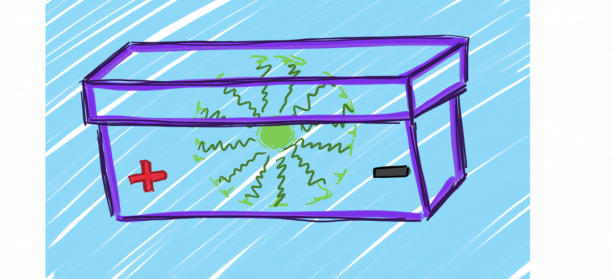 Hoe draagt dit bij aan de energiedoelstellingen van Amsterdam?
Voor de energietransitie is met name de productie van ammoniagas interessant. Om dit te produceren is alleen water en lucht nodig. De bouwstenen van ammoniagas zijn namelijk waterstof en stikstof. Toegegeven, om ammoniagas te maken is ook energie nodig. Hiervoor is een stopcontact voldoende. Van elektriciteit maakt ANCPlasma, je raadt het al, plasma. De energiebalans is ongeveer 30/70. Al denkt Alpha Solutions dat ze dit met wat finetuning naar 20/80 kunnen brengen. Verbranding van ammoniagas resulteert in waterdamp en stikstof en gaat daarmee dus weer terug naar waar het vandaan kwam.
ANCPlasma is in staat om ter plekke ammoniagas te produceren. Er is op die manier geen voorraad en geen transport nodig. Het ammoniagas wordt bovendien in een gesloten systeem geproduceerd. Voor een cv-ketel is de zogeheten AMO-unit zo groot als een schoenendoos. Dit maakt het eenvoudig te installeren naast de ketel (en voor nieuwe ketels in de behuizing).
Al met al kan ANCPlasma de overstap naar aardgasvrije warmte enorm versnellen. Dit kan op twee manieren.
De eerste optie draait om huizen die worden opgewarmd met de bestaande cv-ketel op ammoniagas, zonder dat het gasnetwerk een rol hoeft te spelen. Het wordt daarbij interessant om de invloed van de grote hoeveelheid AMO-units op het elektriciteitsnet te zien.
Een tweede mogelijkheid is dat er in Amsterdam middels een ANCPlasma-centrale een enorme hoeveelheid ammoniagas wordt geproduceerd. Dit zou vervolgens via het huidige gasnetwerk vervoerd moeten worden. Als dit proces op grote schaal mogelijk wordt, dan kan aardgas collectief worden vervangen door ammoniagas.
In het eerste scenario zou je een eenmalige investering doen en daarna slechts voor stroom betalen. In het tweede scenario zou je van een energieleverancier zowel stroom als ammoniagas afnemen.
Wat is er voor nodig om deze oplossing in Amsterdam te implementeren?
Drie zaken.
Ten eerste is er een grote financieringsvraag. De techniek is bewezen in laboratoria en wordt continue doorontwikkeld, maar er is nog het één en ander te organiseren voordat de eerste fabriek klaar is.
Ten tweede is het belangrijk om aansluiting te vinden bij huidig beleid en initiatieven die Amsterdam aardgasvrij kunnen maken. Om de juiste toepassing te vinden, ga ik het gesprek aan met de gemeente, Liander, woningcorporaties, maar bijvoorbeeld ook met Westpoort Warmte en Waternet.
Ten derde zullen we moeten testen. We zullen de eerste huishoudens moeten vinden die deze technologie willen uitproberen. Niet dat er risico's zijn, maar pionieren blijft toch spannend. Na het experiment, is het van belang om goed te evalueren met bewoners en eerder genoemde stakeholders. Een dergelijke technologie kan zowel additief als disruptief worden ingezet, maar het belangrijkste is dat Amsterdam er in zijn geheel beter van wordt.
Wat vindt de community? Als Amsterdam in staat zou zijn om op grote schaal middels plasma een groene energiebron te creëren, wat betekent dit voor onze huidige inspanningen binnen de energietransitie?