Want to receive updates like this in your inbox?
Get notified about new updates, opportunities or events that match your interests.
Set up preferences
Maybe you will also like these updates
Cornelia Dinca, International Liaison at Amsterdam Smart City, posted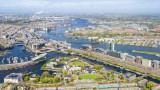 Do you want to connect, learn, and exchange experiences about Amsterdam Smart City? We have designed programs to help you connect to Amsterdam's innovation ecosystem and key learnings from projects in the Amsterdam metropolitan region. Here are our most popular programs:
1. Smart City the Amsterdam Way
We give you an overview of Amsterdam Smart City's program, governance and key projects. It's a light way to get introduced to it all in 1,5 hours and we can also offer this online.
Timing & cost: 1.5h hours, from €300 per group
2. Amsterdam Smart City Deep Dives
Go on a Deep Dive with Amsterdam Smart City and get to the bottom of the energy, mobility, digital city or circular economy transition during this customized 2,5 hour session with multiple experts from Amsterdam's ecosystem.
Timing & cost: 2.5 hours, from €500 per group
3. Smart City Experience
Since 2016, Amsterdam Smart City has hosted more than 250 customized study programs, innovation journeys and trade missions from over 30 countries. With the Smart City Experience we offer tailor-made programs consisting of expert meetings and project visits connecting local and (inter)national stakeholders to the Amsterdam Smart City approach and innovation ecosystem.Timing and cost: 6-8 hours, from €1,500
Where do the Amsterdam Smart City Programs take place?
Most programs take place, or at least start at, the Smart City Lab on the Marineterrein Innovation District. This is a "small space for big ideas" where we showcase examples of smart city solutions from Amsterdam. The Smart City Experience Lab is also a workplace where Amsterdam Smart City partners meet and collaborate. Groups visiting the Experience Lab can also visit the Marineterrein Amsterdam Living Lab on their own or as a part of an organized program.
Questions
Questions or looking to organize a different or customized program? Please send an email with your request via cornelia@amsterdamsmartcity.com.
Amsterdam Smart City, Connector of opportunities at Amsterdam Smart City, posted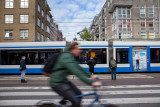 Learn more about the 15 types of data needed for the digitalization of the mobility sector, and the challenges involved
In 2018, the national government made an agreement to contribute to the digitalization of the mobility sector, thereby supporting the sustainability and the mobility transitions. The target is to have 90% of the public data structurally in order by 2023 and to be able to offer it as open data. In this process, a "Data Top 15" were identified – that is 15 types of data that are needed to further digitize Dutch infrastructure, including parking data, logistics data, and bicycle data.
But collecting and managing these 15 data items is a time-consuming and onerous process which exposes many "data dilemmas". During this session, we will dive into some of these dilemmas and lessons learned from the development of Data Top 15 in the Amsterdam Region. What barriers have already been overcome, and what is the roadmap for the upcoming years?
Agenda
15:15 – 15:30 Walk-in
15:30 – 15:40 Welcome and introduction by Amsterdam Smart City
15:40 – 16:00 Data Top 15 approach and lessons learned by Tijmen van Heukelingen (municipality of Amsterdam/Regionaal Data Team)
16:00 – 16:10 Reflection by Indranil Bhattacharya (Co-founder and Digital Society Director at Townmaking Institute)
16:10 – 16:30 Feedback and discussion
16:30 – 17:00 Wrap-up and networking drinks
About the Data Dilemma series
Data Dilemmas is a collaboration between Amsterdam Smart City and the City of Amsterdam's Data Lab. Three times a year we explore the possibilities for using data and new technologies to address urban and societal challenges, with a focus on responsible digitalization. The goal is to use data to make cities more safe, clean and accessible. But what happens to all the data that is collected? Which dilemmas do we encounter when we collect (personal) data to improve the city? These questions are important for everyone: governments, knowledge institutions, companies, and civil society. Amsterdam Smart City would like to explore with you which decisions are needed for responsible use of data.
Location
This Data Dilemma's event will take place at Pakhuis de Zwijger, Amsterdam.
Amsterdam Smart City, Connector of opportunities at Amsterdam Smart City, posted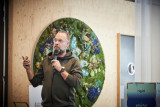 Op dinsdag 16 mei organiseert Amsterdam Smart City een Demodag rondom onze vier transitiethema's: energie, circulair, mobiliteit en digitaal. Er staan weer veel mooie initiatieven en vraagstukken op het programma die we met ons netwerk gaan verdiepen en verrijken. De Demodag vindt plaats bij A Lab. De thuisbasis voor een community van maatschappelijk betrokken organisaties, waaronder onze partner Cenex.
Demodagen zijn onderdeel van ons innovatieproces en bedoeld om de voortgang van verschillende innovatieprojecten te stimuleren, hulpvragen op tafel te leggen, dilemma's te delen en anderen te betrekken bij projecten of uitdagingen. Dit gebeurt in de vorm van zogenaamde 'pitches', met een korte hulpvraag aan de hele groep, en in werksessies waarin we een aantal vragen met een kleine groep wat grondiger behandelen. Meer informatie over wat de demodagen precies zijn en waarom je mee wilt doen, vind je hier.
Klinkt het programma interessant? Je bent welkom om aan te sluiten. Laat het ons weten in de comments of mail naar info@amsterdamsmartcity.com. De Demodag is van 14:00-16:30 met een borrel na afloop.
PITCHES
Samen werken aan een groener en gezonder Nederland – Pientere Tuinen
Pientere Tuinen heeft tot doel een groenere, gezondere leefomgeving te creëren door het bewustzijn en de motivatie bij tuinbezitters te vergroten. Pientere Tuinen is een 3-jarig project waarin 7 partijen samenwerken. De unieke aanpak van Pientere Tuinen draait om drie samenhangende onderdelen: 1) Er wordt data verzameld met een slimme sensor, 2) er wordt kwantitatief en kwalitatief onderzoek gedaan naar strategieën voor een gezonde, groene leefomgeving en blijvende gedragsverandering, en 3) er wordt advies op maat gegeven aan bewoners over de inrichting en het beheer van hun tuin en te komen (obv de data en onderzoeken). Pientere Tuinen combineert technologie/data, participatie en sociale innovatie.
PublicSpaces Conferentie – PublicSpaces
Hoe bouwen we aan een internet dat werkt voor iedereen? Een online ruimte die onze gezondheid, vrijheid en bestaansmiddelen dient en niet in de houdgreep is van Big Tech? Op 27 en 28 juni organiseren PublicSpaces en Waag Futurelab de PublicSpaces conferentie met als thema: een collectief internet. In deze pitch vertellen ze meer over het inspirerende programma vol panels, keynotes, kunst, geestverruimende cultuur en meer!
Innovatie Paviljoen Marineterrein – Gemeente Amsterdam
In het toekomstige Innovatie Paviljoen op het Marineterrein gaan verschillende pilots voor duurzame innovaties plaatsvinden. Zo worden pionierende MKB'ers ondersteund en onderzoekt de gemeente welke verandering in werkwijzen en culturen er nodig is om deze innovaties op grotere schaal door te kunnen voeren. Marlies Veld neemt jullie in haar pitch mee in de plannen voor het paviljoen.
Worden alle tankstations straks laadstations? – Over Morgen
Over Morgen ontwikkelt momenteel een 'Tankstation Transitie Plan'. In een korte maar prikkelende pitch vertellen ze meer over dit project en de vraag; worden alle tankstations straks laadstations? Want zijn traditionele stations nog wel relevant als we in de toekomst op elke hoek van de straat kunnen laden? Hoe kan de locatie de transitie naar duurzaam transport versnellen? En hoe ziet het laadstation van de toekomst er precies uit?
WERKSESSIES
Digitaal | ChatGPT en de overheid: mogelijkheden en impact op ons werk – Jeroen Silvis en Martijn Veerman, Provincie Noord-Holland
Zorgt de techniek van ChatGPT voor een revolutie in de manier waarop we werken en samenleven? Hoe zouden overheden, zoals de provincie Noord-Holland, hiermee om moeten gaan? Wat is de impact als de techniek achter ChatGPT zich doorontwikkeld en steeds prominenter wordt gebruikt, buiten en binnen de eigen organisatie? Is het een efficiënte manier om met burgers te communiceren, beleidstukken te schrijven, of statenvragen te beantwoorden? Of zouden we onze vingers er helemaal niet aan moeten branden? Tijdens deze Demodag zullen we dieper ingaan op de mogelijkheden en potentiële impact van ChatGPT op het werk van overheden. We bespreken niet alleen de technologie zelf, maar met name ook de ethische aspecten die hierbij komen kijken. Hoe kunnen ambtenaren meegenomen in het verantwoord gebruik van deze technologie?
Energie | (English session) Local smart energy systems and P2P trading governed by citizen's energy communities; moving from research and innovation projects to replication and upscaling – Danijela Šijačić en Mark van Wees, HvA
To mitigate climate changes and reduce CO2 emissions and in accordance with different European initiatives like renewable energy directive (RED), Clean Energy Package, and climate-neutral and smart cities mission, transition of energy system to a more sustainable and decentralized one is needed. In Amsterdam, the Buiksloterham demonstration project from ATELIER is paving the way for this transition. It is an innovation R&D project where local smart energy system and P2P trading governed by citizen's energy coop is implemented. The ambition from ATELIER/HvA is to research how to upscale and replicate that Positive Energy District (PED). HvA invites the Amsterdam Smart City network to help prepare this upscaling (in Amsterdam) by discussing the technical, economic and social perspectives
Mobiliteit | (English session) Urban Air Mobility: order in the airspace & opportunities for an inclusive mobility system – Kerry Rohrmeier (San Jose University) in collaboration with Amsterdam Smart City partners
For this worksession, our international guest Kerry Rohrmeier will discuss the future of Urban Air Mobility with the Amsterdam Smart City network. Together with some of our partners Kerry will discuss this futuristic concept and its considerations. The group will dive into matters like maintaining order in the airspace among times of areal innovations, and how urban air mobility could contribute to a more inclusive mobility system.
Circulair | Plastic: We're loving it! Van plasticverslaving naar trendbreuk – Marten Boels, MRA
De wereldwijde hoeveelheid plastic is sinds 2000 verdubbeld. We are loving it! Het is tegelijk ook echt een probleem van onze generatie. Daarvoor kunnen we niemand de schuld geven, maar onszelf. En steeds meer bewijs wijst op de gevaren van microplastics: in het milieu, in dieren en ook in onszelf. Het is kortom hoog tijd voor een trendbreuk in het plasticgebruik. Doel van de sessie is om kennis uit te wisselen en over oplossingsrichtingen te sparren. De partners in de Metropoolregio Amsterdam (MRA) komen graag te spreken over oplossingsrichtingen.
More news