Dear Smart people of Amsterdam,
Every week I present the community with one of the smart energy solutions that I came across during conversations I have with innovators. These solutions may help Amsterdam realise the energy transition in a more effective or efficient manner.
For the nineth post in this blog I will focus on a digital tool for collaboration and decision-making. Creating a futureproof, green and selfsufficient energy system in the city of Amsterdam isn't something that can be implemented top-down. It will only be achieved by working together with citizens. But how can the largest city in the Netherlands involve all her inhabitants in the energy transition? Alliander DGO present a key ingredient in realising citizen involvement: OMONS (In Dutch)
Hoe werkt de oplossing?
OMONS is een digitaal hulpmiddel voor het realiseren van bewonersparticipatie in de energietransitie. Het is erop gericht om bewoners samen met hun gemeente te laten besluiten over de nieuwe energievoorziening in hun buurten. OMONS geeft inzicht in de mogelijke energiemaatregelen die per woning beschikbaar zijn en laat zien wat dit betekent voor de gehele buurt. Het maakt op individueel en collectief niveau duidelijk wat de gezamenlijke impact is van bepaalde oplossingen voor energie opwekking, de mate van energiebesparing en ook bepaalde type infrastructuur. Door bewoners hun eigen voorkeuren en behoeften te laten aangeven, hoopt OMONS bij te dragen aan draagvlak, betrokkenheid en bewustwording.
Het platform kent een aantal functionaliteiten. Ten eerste is er de woningwizard en maatregelenatlas. Die stelt bewoners in staat om hun eigen woning en energieverbruik in te laden in OMONS. Dit kan eenvoudig, om even gauw een beeld te krijgen, maar ook gedetailleerd, waarbij je een stuk meer informatie moet geven. Ten tweede is er het buurtoverzicht. Het buurtoverzicht maakt onder meer duidelijk hoe duurzaam de eigen situatie is in vergelijking tot die van de buurt. Hier kunnen bewoners voor zowel henzelf, als voor de buurt inzicht krijgen in het elektriciteits- en gasverbruik, de geïmplementeerde of overwogen maatregelen en de financiële situatie, bijvoorbeeld de terugverdientijd. Ten derde biedt OMONS een communicatietool. Hier kunnen bewoners vragen te stellen aan elkaar, aan de gemeente of een aangestelde buurtcoördinator. Via deze tool wordt bijvoorbeeld ook gedeeld wanneer een keuze gemaakt moet worden, of worden bewoners op de hoogte gehouden van het proces en de voortgang in de buurt.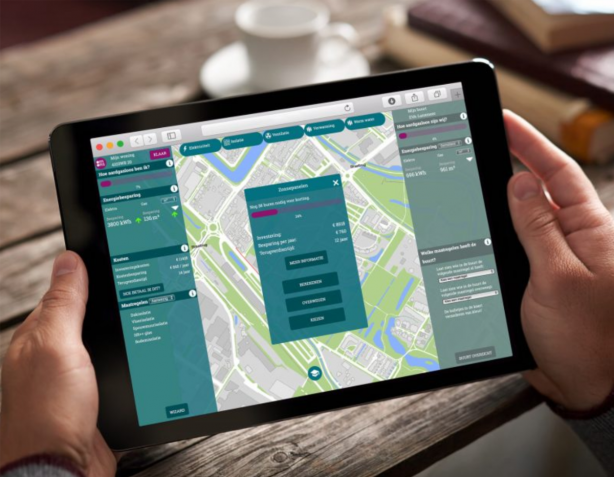 Hoe draagt het bij aan de energiedoelstellingen van Amsterdam?
De energietransitie draait om samenwerking tussen gemeenten, bewoners, publieke én private partijen, tijdens een periode van onduidelijkheid, twijfel en onzekerheden. Dit is voor alle organisaties en bedrijven zoeken en soms even schuren, maar met name in relatie tot bewoners gaat dit vaak mis. Bewoners kunnen natuurlijk niet als één groep worden aangesproken. Doorgaans is er enige vorm van samenwerking met gemotiveerde en enthousiaste bewoners die als koploper te boek staan. Echter raakt de energietransitie alle bewoners binnen en buiten Amsterdam. En hoewel niet iedereen dezelfde mate van betrokkenheid verlangt, is een goede relatie met verschillende bewoners nodig om de transitie tot een succes te brengen. Weerstand, verhoogde kosten en zelfs desinvesteringen liggen op de loer, wanneer onvoldoende wordt samengewerkt met bewoners.
OMONS stimuleert de noodzakelijke samenwerking tussen gemeenten en bewoners. Denk bijvoorbeeld aan wat er voor nodig is om in Amsterdam een warmteplan per buurt op te stellen. Daarvoor moet bekend zijn wat de opties tot verduurzaming zijn met de bestaande energie infrastructuur en van infrastructuur die nog moet worden aangelegd. En wat die opties zijn, is ook afhankelijk van aanwezige energiebronnen zoals restwarmte, de energiebehoefte van gebouwen of hoeveel energie er lokaal kan worden opgewekt. Wil je als bewoner een volledig elektrische warmtevoorziening, dan moet het elektriciteitsnet daartoe berekend zijn en zal je woning wellicht beter geïsoleerd moeten worden. Dit geeft vragen over de financiering, de planning en doorlooptijd, de uitvoering, de alternatieven, of eventuele haken en ogen. En misschien nog wel het belangrijkste: wat willen de buren eigenlijk? OMONS helpt om op al deze aspecten helderheid te verschaffen. Dit vergroot het draagvlak tot verduurzaming en zorgt ervoor dat er in Amsterdam per gebied sneller de juiste keuzes worden gemaakt.
Wat is er nodig om deze oplossing te implementeren?
Om OMONS in te zetten moet er op voorhand een hoop informatie bekend zijn over de mogelijke energieoplossingen in een gebied. Wat zijn de kansen voor zon, geothermie, restwarmte, groengas, etc.? Dit vereist betrouwbare gegevens. Bewoners die een bepaalde keuze maken, moeten die keuze namelijk ook kunnen uitvoeren. Veel informatie die nodig is voor het verduurzamen van een gebied is verspreid onder verschillende partijen. Bijvoorbeeld inzicht in gepland onderhoud en renovatie, kaveluitgifte of andere ontwikkelingen in een gebied. Daarnaast loont het om bijvoorbeeld de gegevens van energie innovaties die in deze blogreeks behandeld zijn, in te laden in het platform. Het bij elkaar brengen en open delen van data is een belangrijke voorwaarde om een tool als OMONS zo effectief mogelijk te kunnen benutten.
Verder is het voor deze oplossing nodig dat de gemeente Amsterdam open staat voor directe participatie en betrokkenheid van haar bewoners. OMONS werkt niet als er vooraf een plan is gemaakt waar niets meer uit te kiezen valt. Het is belangrijk om vooraf te bepalen hoe de output van het platform ingezet gaat worden. Welke spelregels spreek je met elkaar af? Waar laat de gemeente bewoners wel over mee beslissen en waarover niet? Hoeveel zeggenschap krijgen huurders? Bovendien zal per buurt lokale betrokkenheid aangewend moeten worden om een gebiedsteam aan te stellen. Een team van trekkers dat weet wat er speelt in het gebied en beschikbaar is voor vragen en steun. Bewonersparticipatie betekent in die zin ook dingen loslaten. De gemeente zal een rol moeten aannemen waarin het de kaders en randvoorwaarden schets waarmee de stad autonoom en organisch het gewenste einddoel kan bereiken.
Wat vindt de Community? Hoe kijken jullie aan tegen bewonersparticipatie in de energietransitie? Leidt betrokkenheid van en samenwerking met bewoners tot meer versnelling of is het efficiënter om top-down besluiten te nemen?