Want to receive updates like this in your inbox?
Get notified about new updates, opportunities or events that match your interests.
Set up preferences
Maybe you will also like these updates
Highlight
from Amsterdam Smart City, Connector of opportunities at Amsterdam Smart City, posted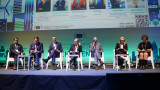 The Intelligent Cities Challenge (ICC) is one of the European Commission's largest city support initiatives supporting European cities in their green and digital transitions. ICC delivers knowledge and support services to cities and their local economies to address two major challenges: making the transition to a net-zero economic model, while enabling social inclusion and sustainable development for every EU citizen.
Cities learn how to address these challenges through Local Green Deals: integrated, multi-disciplinary action plans to lead the green and digital transition across sectors from the built environment, urban mobility and renewable energy systems to tourism or small retailers. Cities become members of a vibrant network, gain access to advisory services, innovation and sustainability management techniques, cutting-edge technology and training and get inspiration and advice from peers and mentor cities.
Building on the success of the previous edition of the ICC programme (2020-22) and Digital Cities Challenge (2017-19), the ICC will now enter Phase 2!
Amsterdam as a Mentor City
Like previous years, Amsterdam has been selected to join the support programme as a mentor city. The city will play a leading support role by guiding the 64 core cities as they embark on their two year journey to create impactful strategies and develop innovative solutions that will place the cities at the forefront of the green and digital twin transition through Local Green Deals. A nice compliment, allowing the Amsterdam Region to share their experiences and learnings from setting up Local Green Deal initiatives over the past years.
The Intelligent Cities Challenge Strategy City Lab: Accelerating the Twin Transition (November 2023)
On 23 and 24 November 2023, over 200 people - a mix of Intelligent Cities Challenge (ICC) core and mentor cities, political leaders and representatives from European institutions gathered for the first time in-person to discuss the status quo of Twin Transition. Through examples and best practices, attendees had the honour to hear from over 30 speakers as they shared insights into collaboration methods, Local Green Deals, climate ambitions, digital transitions and more across the course of 20 sessions.
Amsterdam Smart CIty's Leonie van den Beuken travelled to this gathering in Brussels as one of the representatives of the Amsterdam Region. She summarized her trip as follows:
This EU program helps cities from north to south, east and west to connect, share and learn. A much needed interaction, as we all try to improve the quality of life of our citizens. We all struggle with the ever rising cost of living. And we all want to get our cities to become more sustainable.
None of this comes easy, but we all know that local collaboration plays a key role. Building local coalitions between government, businesses and citizens is one thing, but how do we make sure these so called coalitions of the willing actually become coalitions of the doing?
Some of the learnings we shared from the Amsterdam Region are; the need for political support and the importance of trust and respect.
Local political leadership will inspire and guide society and entrepreneurs to invest and contribute. However, make sure pilotical support doesn't evolve into political ownership. When that happens, societal parties and businesses tend to step out the coalition.

Take the importance of trust and respect seriously. You need to show long term commitment, take time to create understanding between parties. Take competition between participating SME's serious and define together how to handle this together. Create a workflow in which smaller parties are allowed to participate less intense but sill feel incorporated.
We'll keep you up to date on our participation in future gatherings and results from ICC Phase 2. Want to know more? Check https://www.intelligentcitieschallenge.eu/
Sophie van der Ploeg, Community Manager & Program Lead Digital at Amsterdam Smart City, posted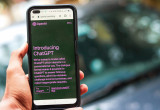 Are language processing tools powered by AI, such as ChatGPT, revolutionising the way we work and live together? How should governments, such as the province of North Holland, deal with this? What is the impact as the technology behind ChatGPT evolves and is used more and more prominently, outside and within their own organisations? Is it an efficient way to communicate with citizens, write policy documents, or answer state questions? Or should we avoid or discourage the use of ChatGPT for governments? During Demo Day #20, we explored the possibilities and potential impact of ChatGPT on the work of governments. We will discuss not only the technology itself, but especially the ethical aspects involved. How can officials be included in the responsible use of this technology?
Case & Set-up of the Session
After an introduction of the question by the Jeroen Silvis and Martijn Veerman from the province of North-Holland, the participants first identified opportunities and threats when using ChatGPT for a concrete case study: writing a housing vision for the region using ChatGPT. The opportunities and threats were identified from perspectives: political administrators, civil servants working for the province and municipality, citizens and housing developers and associations. After this round of identifying opportunities & threats, the participants discussed some important factors the province of North Holland should keep in mind when developing a framework for the use of ChatGPT.
Insights
Opportunities for political administrators, civil servants working for the province and municipality, citizens and housing developers:
Make civil service more efficient and effective; compose and read policy documents;

Civil servants working for the province can save a lot of time as ChatGPT makes it easier to write large policy document; it can also serve as a source for creativity and inspiration;

ChatGPT could be beneficial for civil servants working for municipalities, as ChatGPT might help simplify complicated documents;

Citizens benefit as complicated plans become more readable and accessible through the use of ChatGPT;

ChatGPT could help broaden visions for area development and housing (in this specific case) which is beneficial to housing developers.
Threats for political administrators, civil servants working for the province and municipality, citizens and housing developers:
Through using ChatGPT, internal and privacy-sensitive information will be in hands of big tech multinationals, which is a big risk for political administrators; dependence on AI might lead to a loss of autonomy;

Using ChatGPT for writing policies might lead to tunnel vision for civil servants working for the province; Does the policy fully reflect the vision of the civil servant when using ChatGPT?;

ChatGPT makes use of existing content, which may lead to less innovation. This is a risk for civil servants working for the municipality as they have to execute the policy;

Citizens might worry about their privacy, as ChatGPT is owned by a big tech multinational;

ChatGPT might simplify housing visions whilst the realisation of housing is a complex issue, this is a threat for housing developers.
After identifying the opportunities & threats, the participants discussed what the province of North Holland should keep in mind for the development of a ChatGPT framework for internal use. Some remarks from the group:
Always remain critical and check everything, make sure to identify your sources;

Pay attention to public values and explore open-source language model alternatives that are more responsible and open source. Be aware of the influence of big tech;

Provide clear frameworks and instructions for the use of ChatGPT or a similar tool;

Make clear rules about who is responsible;

Knowledge and experience is also within people, not everything is public or published and thus accessible for ChatGPT;

Learn to ask the right questions: what is the input for ChatGPT? Educate your colleagues about the use, the do's and don'ts;

Hire ChatGPT expert(s) and organise internal strategy sessions;

Be transparent about the use of ChatGPT within the government;

Choose for one tool, preferably open-source, that can be used organisation-wide.
Conclusion and Next Steps?
It is clear that the technology around AI powered language models is developing very quickly. As colleagues of the province of North Holland are already using ChatGPT, it is important to develop a framework for internal use. Jeroen and Martijn from the province of North Holland will use the concrete input from this session and work on plan/framework the coming months. It is unclear whether this question will have next step within the Amsterdam Smart City network, but a valuable connection has been made between the University of Applied Sciences of Amsterdam and the province of North Holland. Do you have any input for Jeroen and Martijn about this topic? Please contact me via sophie@amsterdamsmartcity.com, or leave a comment below.
Cornelia Dinca, International Liaison at Amsterdam Smart City, posted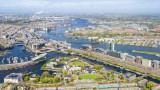 Do you want to connect, learn, and exchange experiences about Amsterdam Smart City? We have designed programs to help you connect to Amsterdam's innovation ecosystem and key learnings from projects in the Amsterdam metropolitan region. Here are our most popular programs:
<strong>1. Smart City the Amsterdam Way**</strong>
We give you an overview of Amsterdam Smart City's program, governance and key projects. It's a light way to get introduced to it all in 1,5 hours and we can also offer this online.
Timing & cost: 1.5h hours, from €400 per group
<strong>2. Amsterdam Smart City Deep Dives**</strong>
Go on a Deep Dive with Amsterdam Smart City and get to the bottom of the energy, mobility, digital city or circular economy transition during this customized 2,5 hour session with multiple experts from Amsterdam's ecosystem.
Timing & cost: 2.5 hours, from €600 per group
3. Smart City Experience
Since 2016, Amsterdam Smart City has hosted more than 300 customized study programs, innovation journeys and trade missions from over 30 countries. With the Smart City Experience we offer tailor-made programs consisting of expert meetings and project visits connecting local and (inter)national stakeholders to the Amsterdam Smart City approach and innovation ecosystem. To request a Smart City Experience, send a request at least one month in advance to cornelia@amsterdamsmartcity.com.
Timing & cost: 6-8 hours, from €1,500 per group
Where do the Amsterdam Smart City Programs take place?
Most programs take place, or at least start at, the Smart City Lab on the Marineterrein Innovation District. This is a "small space for big ideas" where we showcase examples of smart city solutions from Amsterdam. The Smart City Experience Lab is also a workplace where Amsterdam Smart City partners meet and collaborate. Groups visiting the Experience Lab can also visit the Marineterrein Amsterdam Living Lab on their own or as a part of an organized program.
More news