In our daily lives, we became dependent on just a few tech companies, usually located in the USA or in China. Should we become independent and develop our own tech sector? Last Friday, the 19th of June 2020, the fifth edition of the Tech for Society series was launched in Pakhuis de Zwijger: a livestream series about the role of technology in a society that is currently under pressure of the Covid-19 crisis. The central theme of this edition: 'the European Tech Sector'.
Why is it so important to have a tech sector 'of our own'? Sander van der Waal, Future Internet Lab Lead of Waag explains the role of technology. He uses the metaphor of an iceberg. At the top, there is the technology people see in their daily lives. Phones, wifi, internet, they are there and work fine. Beneath this citizen perspective are a lot of layers we can't see. There is a technology stack, in which you'll find the infrastructure, the internet cables, GPS, datacenters, operating systems and more. Below the stack you find the development process, the choices companies made. After that is the foundation. This is the part with assumptions, values and peoples' rights. The figure shows that technology is a lot more than we think. It has a lot of layers and what to put in the layers, makes sense.
Zooming in on the stack, you can define three variations. 1: a private stack, dominated by tech companies driving by profit and the people as consumers. 2. A state stack, closed tech, dominated by states and surveillance of citizens. 3. A public stack, putting European values into practice, make technology open, with a participating role for citizens. Sander doesn't think it is necessary to develop a European tech sector. There would be risk we would develop a European private sector and one can doubt if that is really a step ahead. Maybe a little one because we won't be dependent on US companies, but in this case people still don't play an active role.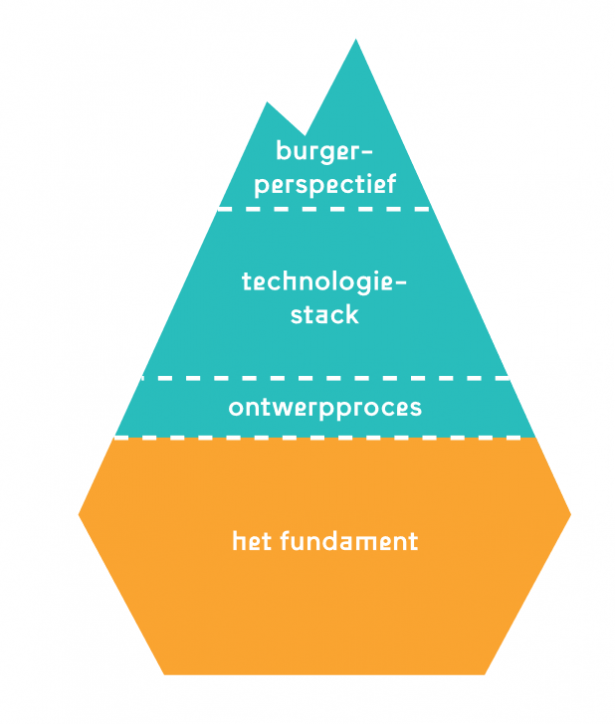 Source: Waag
The big five
The biggest companies we are depending on, are called the big five. Google, Facebook, Amazon, Apple and Microsoft dominate the tech industry. Most of them collect our data and make them into a business model. According to Jochem de Groot, director Corporate Affairs, Microsoft does search for the societal debate about technology. They are talking about the public value of their technology. For example in AI, Microsoft calls for more rules and regulations. This way they also hope that it is easier for citizens to hold sovereignty. Microsoft also launched an open data campaign.
Sander: 'Open data can be a step in the right direction. However, be careful with it. Data are often relatable to people. There is more open data available, but we have to be careful if we can find out to whom te data belong. Once leaked, data never go back. When it comes to tech, Europe is mostly known for the GDPR, the General Data Protection Regulation. This is a standard and also important in the USA. More current technological developments put the citizen central. And also the developments of open source are getting bigger. Open source helps to decrease the dependency of individual companies.'
Paul Tang is member of the European Parliament for the Progressive Alliance of Socialists and Democrats (S&D). He just came back from a demonstration at the office of Facebook against personalized adds. In the European Parliament a majority says these personalized adds should be forbidden. Paul: 'Someday this is should be a law, because the European Parliament has legislative power. Sometimes these decisions can take a long time, because of member states, lobby organizations and various interests. The good thing of this power, is the influence it has on Europe, but also on the rest of the world. However, sometimes I am shocked by all the work that still has to be done. We set up criteria for the usage of algorithms a while ago, but they are not yet put into practice. When it comes to the digital playing rules, we have a lot of work to do.'
Opportunities for Europe
If the lack of tech giants in Europe is an issue and we want to create a European tech sector as a solution to our dependency on American tech giants, are there developments going on that might be opportunities that might contribute to a European tech sector? 'Quantumcomputing', Jochem from Microsoft says. 'Here we really have an opportunity to create an ecosystem and be unique. As Microsoft we would like the Dutch government to invest in this.' According to Paul Tang, 'the market for personalized data is fully dominated by the American giants. There are possibilities in the EU for non-personalized data. For example, in the Internet of Things. Bianca Wylie, open government advocate and Tech Reset Canada co-founder: 'When I advise companies about their future, I always tell them to get away from behavioural data. Go for clean tech, robotics, infrastructure or health tech, but don't make your business depend on the surveillance economy. Grow other sectors with an alternative vision.'
Bianca also spoke about the opportunities Covid-19 bring to the tech sector. 'There is an opportunity but a threat as well', she says. 'We have to watch the emergency that is taking place now when it comes to procurement. Keep an eye on the democratic process. But this time is also an opportunity to get rid of the tech that is not successful but costs a lot. Check the existing infrastructure. Not working? Let it go! And value human capital. We need teachers, doctors, people who do contact tracing. Build tools that help them.'
Paul: 'The personalized ads ask for the collection of more data. We have to ban this. I think that selling products is a different business model. It shows a clear relation between producer and consumer. The system in which the people give data, get free products with advertisements is vague and manipulative. Skip this business model and make space for new ones.' Jochem (Microsoft) doesn't want to comment on this, because this is mainly about his competitors. He does stress that is important to create space for a market in tech, there have to be possibilities to compete. The government has to set the framework. For example with GDPR. Values for AI could use such a framework as well.'
Data sovereignty is a long lasting wish of a lot of countries. GAIA-X could play a role in this. GAIA-X is an initiative by France and Germany to strengthen the digital sovereignty of Europe. It will make Europe less dependent on China and the USA. Sander is also critical: there is a risk of copying existing models. But we need a completely different data strategy, the system is no good.
About the steps we have to take, the three men agree: we need more influence of Europe, all from another angle. According to Paul, Europe has to win back soeverignty and call a halt to their development. Jochem wants European unity to become a powerful block that can set a framework. Sander: 'Only with the cooperation in Europe we can build alternative data models'.
According to Amsterdam Smart City, the discussion of this evening is exactly the discussion that needs to take place. Collecting data is very useful to work on the challenges in our cities. But we have to be aware that these data are in the hands of the private sector. And that free usage comes with a price. Can we work on public values with the data? This asks for a collaboration between the public and
private sector, something we work on every day. Amsterdam Smart City always puts public value first: innovating together and transparent, using each other's expertise, with the resident at the centre.
Do you want to watch the full episode? You can watch it here (in Dutch):
[##### Tech for Society #5: Waar is de Europese techsector?
Waarom zijn er geen Europese techreuzen meer?
Pakhuis de Zwijger](https://dezwijger.nl/programma/waar-is-de-europese-techsector)