Matias Cardoso, Data, Sustainable Mobility, Architecture , posted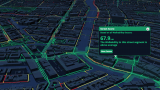 🚶‍♀️ How walkable is Amsterdam? 🚶‍♂️
🏘️ Ever wondered how pedestrian-friendly is your neighbourhood?
Do you feel encouraged and safe to walk in your surroundings?
Do the streets have too much traffic 🚦 and not enough trees 🌳?
 
Together with Vasileios Milias, we've developed CTstreets map, a new tool where you can check how your street scores in different walkability factors and what might be missing to make it more attractive for pedestrians.
👀 Explore the web tool here: https://miliasv.github.io/CTstreets/?city=amsterdam#15.18/52.371259/4.895385/0/45
🔍 Dive into the methodology and process on our info page: https://miliasv.github.io/CTstreets/info_page/
CTstreets is based on the results of my thesis "Amsterdam on Foot" where I developed a participatory approach to evaluate walkability in every street segment of Amsterdam using open data.
The categories available on the map are Overall walkability, Landscape, Crime Safety, Traffic Safety, Proximity and Infrastructure.
📍 With this tool, you can check how is the walkability per street, neighbourhood or walkshed (5 or 15 minutes) and switch between categories.
A disclaimer about the results presented: While based on the opinions of municipality workers, urban designers and advocates for pedestrian accessibility, this work might not reflect the opinion of everyone. After all, walkability is also influenced by personal factors. Furthermore, the data we used comes from open sources and it might not always be accurate / up to date. Ctstreets aims to enable the exploration of factors that impact walkability according to the experts in a simple, interactive, and fun way, and spark a conversation about how we think and design for pedestrians.