You're probably already familiar with our online platform to share your news, projects and events with the Amsterdam Smart City community. Or you use this website to find news about smart cities, check out upcoming events and read about our organisation.
There are some changes on the way… Soon we will launch a brand new platform!!
We all want to live and work in a healthy city and region, now and in the future. Cities are getting busier and we are experiencing the effects of climate change and pollution. That is why we need solutions to guarantee a livable future. Technology is not the challenge here. Real progress can be made in finding, connecting and collaborating with likeminded people and organizations.
Why a new platform
Four years ago the new amsterdamsmartcity.com was launched in the Johan Cruijff ArenA. Not your ordinary website, but a unique interactive platform in the smart city sector. To tackle the challenges we are facing in cities, we need each other. Our platform helped a smart city community to find each other, share, connect and make an impact together! Soon more than 600 people joined the community and shared their work to make better streets, neighbourhoods and cities. And the amount of people grew more and more.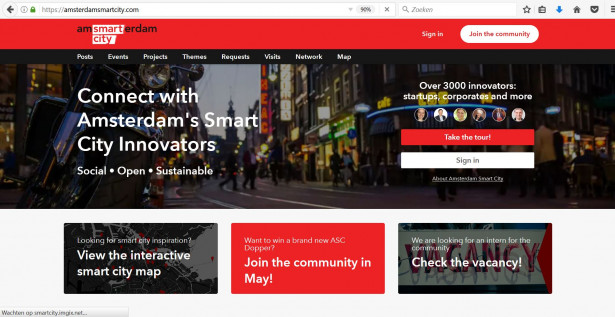 The look and feel of the first ASC community platform, three years ago
Now, four years later the Amsterdam Smart City expanded to more than 8000 people, 300+ projects and organizations and daily contributions. The platform is visited by people from all over the world. We got in touch with a brand new group of innovators, made it possible to connect them to our existing community, grew a network. Now it's time to innovate the platform for the innovators, right?!
What's new?
The community is growing, contributions are increasing, and more information is displayed on the platform. Therefore we are making an alternative that improves the overview and gives you control over the e-mails that are sent. And because the smart city field is a diverse field, with lots of themes, challenges and angles, we will help you reach the content that is of your specific interest.
Furthermore we hope to show you more of the program of Amsterdam Smart City. We are an open innovation platform and workspace for partners and the community. We facilitate collaboration in various types of events, of which a lot is done offline. And we want to involve you more in what's happening offline in the Amsterdam Metropolitan Area.
Welcome!
A platform that will give you a better overview, helps you to connect to likeminded people and looks great! A platform with personalized content and e-mails, but also the occasional outside-your-bubble content. In the onboarding we will help you to get to know all the features. But more on that later!
We are looking forward to welcoming you on the new platform from the 17th of November and look forward to your feedback!
Please note: the website will be offline for a while on the 12th of November. At the end of the day, we will be back with the new platform. As a member of our community, you will automatically receive an e-mail to reactivate your account.