Emma Habers, posted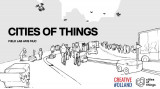 The workshop "Cities of Things Amsterdam-Munich" is part of the Creative Embassy AMS-MUC program and kicks off a field lab that focuses on this new paradigm of the smart city: the Cities of Things. It introduces the research theme and invites you to explore possible collaborations in field lab projects.
When: Thursday July 8
What time: 10.00 – 12.00
Where: online
We invite companies to participate that are interested in or already are working on solutions for the (smart) city, and are interested in the impact of new technologies such as AI, IoT, robotics on our city life and society.
The Creative Embassy program was initiated by Creative Holland and the Team of Excellence for the Culture and Creative Industries of the City of Munich and started in 2015 as a collaboration between the cities of Amsterdam and Munich. This multi-year partnership created opportunities for creative industries in both regions to exchange and work together on urban challenges.
For more information and to sign up send an e-mail to Emma Habers at e.habers@amsterdam.nl.
Note from ASC: Are you going? Let others know by dropping a like.