Want to receive updates like this in your inbox?
Get notified about new updates, opportunities or events that match your interests.
Set up preferences
Maybe you will also like these updates
Sophie van der Ploeg, Community Manager & Program Lead Digital at Amsterdam Smart City, posted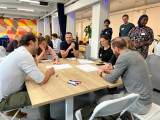 When working together on transitions, it is important to be aware of and sensitive to the impact of power and systemic oppression in participatory processes. Within the Amsterdam Smart City network, the question of inclusion and civic participation, is often brought up in worksessions and discussions. However, we often lack the tools to find the bottlenecks and really include all important beneficiaries.
Therefore, we asked our valued partners Kennisland and DRIFT to lead a workshop about Power in Transitions at Demoday #20 on May 16. Dave van Loon and Faduma Mukhtar (Kennisland) together with Aron Teunissen (DRIFT) taught the participants more about power in transitions, based on the Power Literacy Framework and Field Guide from Kennisland. This guide describes five different forms of power and offers a set of tools for professionals to become more aware of power dynamics in their work.
The five forms of power
According to the Power Literacy Guide by Kennisland, there are five forms of power in design process. If you want to learn more about this, you can download the Power Literacy guide here. The five forms of power are:
Privilege: The type of power you get from a social relation whereby you benefit due to the social group you belong to, at the expense of another social group. It is an unearned advantage and often invisible to those who have it.
Access power: The ability to influence who is included in and excluded from the design project and process.
Goal power: The ability to initiate the design project to begin with, as well as the ability to influence decisions related to framing the problem, goals, and structure of the design process.
Role power: The ability to influence the roles that different stakeholders take on. This includes the ability to assign any roles or titles in the design process, as well as influencing the role each stakeholder plays in making decisions.
Rule power: The ability to influence the way that those in the design process will work together. It includes the ability to influence what is considered normal, what is allowed and what isn't, how actors will communicate with each other, what language is used, and beliefs about what types of knowledge are valid.
Power check
After a theoretical introduction of the five forms of power, we split into smaller groups to perform a so-called power check for different Amsterdam Smart City projects, such as the Mobility Challenge and "Wat mensen beweegt". Using this power check, the participants looked at access power and goal power. We identified all actors affected by the project and indicated which actors were not involved. The different actors were then assigned a role in different stages of the process: listener, co-creator, advisor, partner or director.
Most important take-aways
The goal of this exercise was to create more awareness about involving target groups in different stages of the project. The main take-aways were:
The role for the for the 'benefit group', the people that are impacted by the project, is often too small. If beneficiaries are involved, this often happens in the last stages of the project. In this phase in the project, it is often more difficult or not possible at all to influence decision-making;

To create equal power, some parties have to 'give away' (some of) their power;

Truly inclusive work takes time, effort and money. It is not something takes place overnight;

Awareness is half of the battle: make the topic of systemic oppression in participatory process a structural part of your (work)process).
Want to learn more about power in transitions? Read more.
Francien Huizing, Program and Communication Manager at Amsterdam Smart City, posted

The transition towards a circular economy and the energy transition are both needed to reach a sustainable economy and society. The two are intertwined, as the materials needed for the energy transition (such as solar panels) are enormous and the speed of the energy transition is very dependent on the availability of sustainable raw materials, scarce earth metals and biomass. An integral approach is needed in the Metropolitan Region Amsterdam.
Metropolitan Region Amsterdam (MRA), City of Amsterdam, Province of North Holland (PNH) and Amsterdam Economic Board commit to actively stimulating this integral approach. In the session on the Transition day, we explored what the current connection or disconnection is between the two transitions in order to define the best next step.
Insights of the session
Led by Marielle de Bloois of Royal HaskoningDHV, all participants drew the current situation of both transitions. By explaining our drawings to each other, we all got new insights into the current situation and barriers between the two transitions. The main findings, visualised by Thomas van Daalen of Flatland are:
There is enormous attention for the energy transition in terms of money, people and communication;
There is only little attention for circular economy whilst the urgency is nothing less;
People working on the transitions are working in separate teams with little connection whilst they are working on the same societal challenges;
The circular economy is unknown and complex. If people want to connect the transitions they don't know where to start;
We have to rethink and link our narrative and connect people working on both transition and connect solutions.
The next steps
The session has led us to valuable new insights, and the participants are ready to take the next steps. For now, we have agreed on the following:
The participants from the municipality of Haarlemmermeer will internally make a connection with their colleagues working on the energy transition.
Eurofiber will dive deeper into available knowledge within their organisation.
Edwin from the MRA will take the lead in setting up an approach with Province of North Holland, City of Amsterdam and Amsterdam Economic Board to make sure the topic of the circular energy transition will be part of the MRA agenda 2024.
Amsterdam Smart City will keep the topic on the agenda and connect the right people around it.
Cornelia Dinca, International Liaison at Amsterdam Smart City, posted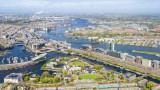 Do you want to connect, learn, and exchange experiences about Amsterdam Smart City? We have designed programs to help you connect to Amsterdam's innovation ecosystem and key learnings from projects in the Amsterdam metropolitan region. Here are our most popular programs:
<strong>1. Smart City the Amsterdam Way**</strong>
We give you an overview of Amsterdam Smart City's program, governance and key projects. It's a light way to get introduced to it all in 1,5 hours and we can also offer this online.
Timing & cost: 1.5h hours, from €400 per group
<strong>2. Amsterdam Smart City Deep Dives**</strong>
Go on a Deep Dive with Amsterdam Smart City and get to the bottom of the energy, mobility, digital city or circular economy transition during this customized 2,5 hour session with multiple experts from Amsterdam's ecosystem.
Timing & cost: 2.5 hours, from €600 per group
3. Smart City Experience
Since 2016, Amsterdam Smart City has hosted more than 300 customized study programs, innovation journeys and trade missions from over 30 countries. With the Smart City Experience we offer tailor-made programs consisting of expert meetings and project visits connecting local and (inter)national stakeholders to the Amsterdam Smart City approach and innovation ecosystem. To request a Smart City Experience, send a request at least one month in advance to cornelia@amsterdamsmartcity.com.
Timing & cost: 6-8 hours, from €1,500 per group
Where do the Amsterdam Smart City Programs take place?
Most programs take place, or at least start at, the Smart City Lab on the Marineterrein Innovation District. This is a "small space for big ideas" where we showcase examples of smart city solutions from Amsterdam. The Smart City Experience Lab is also a workplace where Amsterdam Smart City partners meet and collaborate. Groups visiting the Experience Lab can also visit the Marineterrein Amsterdam Living Lab on their own or as a part of an organized program.
More news