Want to receive updates like this in your inbox?
Get notified about new updates, opportunities or events that match your interests.
Set up preferences
Maybe you will also like these updates
Highlight
from Amsterdam Smart City, Connector of opportunities at Amsterdam Smart City, posted

In Today's Changemakers, we talk with pioneers in our network who are all, in their own way, shaping the city and region of the future. Our first interviewee is Romy Dekker, senior researcher at the Rathenau Instituut. She studied Cultural Anthropology and Development Sociology at Leiden University, where she quickly learned that our societal drive for growth comes at the expense of our planet, and that development does not always mean improvement for all. This insight motivated Romy to combine her interest in science with sustainability. Currently, she works as a senior researcher on topics at the intersection of sustainability, digitalisation and democracy. Her latest work caught our attention. She just started a study on how new technologies, such as Digital Twins, can contribute to tackle societal challenges in the built environment. The following paragraphs describe our insightful conversation about the complexities when using digital technology, her first learnings, and personal ambitions.
In Romy's work, she looks at the role of data and digitalisation in the energy transition in two ways. The first is data as an enabler for a just energy transition.
"The convergence of sustainability transitions and the digitisation of society represents two of the most defining trends of our era. The intersection of these trends has a significant impact on society. The Rathenau Instituut wants to provide tools for a broad discussion about what is needed to use digital technology and data for just sustainability transitions."
"In our report Stroom van Data, we investigated how data can be used for a just energy transition. It's becoming increasingly clear that data are indispensable for the energy transition. Data can help with keeping the energy system affordable, reliable and clean, for example by better aligning the demand for and supply of energy and by providing citizens insights into their energy behaviour. However, there are also genuine concerns about citizens' control over their data, the cybersecurity of the energy supply, the environmental impact of digital technologies and the distribution of benefits and burdens of a digitalized energy-market. Addressing these issues is necessary to achieve a socially responsible energy transition."
The second approach concerns how digital technologies, specifically Digital Twins* (definition can be found at the end of this page), can contribute to decision-making regarding spatial planning for sustainability challenges, such as the energy transition. Are Digital Twins merely a hype or a hope?
"Urgent societal challenges are often interdependent, meaning that an intervention in one area can have an impact on another; a decision to build a house somewhere, for example, has an impact on achieving other urgent energy, water, and climate goals. To tackle this complexity and improve the information available to stakeholders, public and private parties turn to data and digital technologies, and more specifically to Digital Twins."
"However, as digital technologies and data are neither neutral nor apolitical, it is important to remain critical on how Digital Twins can contribute to tackling societal problems. The use of Digital Twins in decision-making and governance may influence our definition and understanding of problems. Consequently, it may determine what is governed, who has the ability to exercise power and be involved, and how we act. Ultimately, this can determine if social challenges are genuinely and fairly addressed. When simulating an urban region, there are also many ecological, social and political-economic aspects. How do you take these factors, which cannot easily be measured, into account?"
"Because the Digital Twin is gaining popularity as a tool for decision-making, the Rathenau Instituut will investigate how such technologies can contribute to tackling societal challenges in the built environment. Can Digital Twins help to make more integral decisions and engage citizens and other relevant stakeholders in decision-making? And if so, how? What are risks associated with using these technologies and how can they be mitigated?"
Romy's considerations for the Amsterdam Smart City community
"A bit of an open door, but nonetheless very important; technology is a means and not an end in itself. It is important that its use takes place in a responsible manner, with an eye on public values such as equality, fairness, and democratic governance and that it is carefully considered how its use contributes to the urgent societal challenges we face. Finally, public involvement in sustainability transitions is important, but only if it takes place in a meaningful way. Otherwise, it can do more harm than good. This requires a clear answer to questions such as: is it clear what the purpose and process of public participation are and what will be done with the input?"
Using science to tackle societal challenges
"I used to doubt whether I wanted to work as a scientist or not. Because although scientists do very important work, they can sometimes be a bit disconnected from concrete societal issues, causing their work to lose relevance. I like how at the Rathenau Instituut, we really stand between science, politics and society. We want to make scientific insights accessible to a wider audience, and also actively involve citizens through participatory methods. It motivates me that in my work, I'm increasingly looking at how science, technology and innovation can contribute to tackling major societal challenges in a just way."
"My dream for the urban region of the future? A liveable city for both humans and non-humans that operates within planetary boundaries and ensures an equitable distribution of both burdens and benefits."
Romy and her colleagues recently started their research on using digital technologies, including Digital Twins, to address societal challenges that come together in a specific (urban or regional) area. Are you currently working on a Digital Twin project, or as a policymaker interested in the use of Digital Twins but facing certain challenges? And would you like to contribute to Romy's research? Shoot our community manager Sophie (sophie@amsterdamsmartcity.com) a message and she will connect you with Romy!
*A digital twin (DT) can be seen as a virtual representation of a physical product, process or (eco)system. They can be used to simulate how a physical object or system will perform under different conditions and scenarios, allowing for a better understanding and optimization of processes.
Amsterdam Smart City, Connector of opportunities at Amsterdam Smart City, posted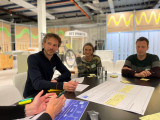 Hoe zet je de mens centraal in digitalisering? Hoe voorkom je uitsluiting van mensen die vervoer niet meer kunnen betalen? Hoe ontwikkel je samen lokale energiesystemen? Amsterdam Smart City werkt met 27 partners in co-creatie aan deze drie belangrijke vraagstukken.
Van digivaardige mensen naar mensvaardige digitalisering
Technologische en innovatieve ontwikkelingen volgen elkaar steeds sneller op. Als overheid wil en moet je hierin meegaan. Tegelijk leidt de inzet van digitalisering en data vaak tot ongewenste resultaten, wat de afstand tussen inwoners/ondernemers en de overheid vergroot.
Gemeente Haarlemmermeer verschuift haar focus van 'het systeem staat centraal, mensen moeten maar digivaardig worden' naar 'de mens staat centraal, onze systemen moeten mensvaardig worden'. De onderliggende vraag is hoe zet je de mens écht centraal in digitalisering en het vormgeven van digitale systemen? De gemeente Haarlemmermeer zou graag samen optrekken om deze vragen uit te werken tot een advies dat breder inzetbaar is.
Mobiliteitsarmoede: hoe voorkomen we uitsluiting van mensen in het mobiliteitssysteem?
Stijgende benzine- en elektriciteitsprijzen; de toenemende digitalisering en afname van het openbaar vervoeraanbod zorgen er, onder andere, voor dat steeds meer mensen problemen hebben om zich te verplaatsen. Verduurzaming en deelmobiliteit lijken niet voor iedereen weggelegd en maatregelen om dit te stimuleren werken het probleem mogelijk zelfs in de hand. Het risico op sociale uitsluiting wordt hierdoor groter.
De provincie Noord-Holland en DRIFT maken zich zorgen over mobiliteitsarmoede en vragen zich af wat we eraan kunnen doen om deze mensen mobiel te houden. Er is echter nog weinig bekend over de omvang van het probleem, de exacte doelgroepen en welk instrumentarium werkt (en wat vooral niet). Daarom willen we graag in gesprek met de partners om tot gezamenlijk inzicht en een afgestemde aanpak te komen.
Samenwerking voor ontwikkeling lokale energiesystemen
De milieuproblematiek en de huidige hoge energieprijzen zorgen voor een snelle omschakeling van gas naar elektriciteit. Dat is de afgelopen jaren veel sneller gegaan dan voorzien, met netcongestie als gevolg.
Door samenwerking tussen lokale partijen kan er een zo optimaal mogelijk energiesysteem gecreëerd worden. Dat kan het elektriciteitsnetwerk ontlasten en, bijvoorbeeld, het maximaal gebruik maken van duurzame bronnen stimuleren en de energiekosten drukken.
Dit vraagt een intensieve samenwerking waarbij elke partij wordt uitgedaagd om verder te denken dan de eigen belangen. Er zijn geen bestaande structuren of systemen waar dit binnen past. Alliander doet een oproep voor samenwerking op dit vraagstuk.
Sinds november werken we in verschillende werkgroepsessies toe naar nieuwe initiatieven om antwoorden te bieden op deze uitdagende kwesties. Wil je ook meedenken en deel uitmaken van oplossingen? Neem contact op met Sophie via sophie@amsterdamsmartcity.com.
Laetitia Stuijt, Project employee at Amsterdam Economic Board, posted
Do you want to encourage people in your organization to help others to use energy more consciously and thus reduce energy bills? This is possible as an Energy Coach of !WOON. Volunteers in for example Amsterdam, Haarlem and Zaanstad come to people's homes as energy coaches by appointment. You will receive extensive training, material and guidance. For more information, visit https://www.wooninfo.nl/vraagbaak/energie/energiecoach-worden/.
Energy coaches are also active in other municipalities in the Amsterdam Metropolitan Area and you can join them. This is organized by various organizations. Some will work with volunteers and there are organizations that work door-to-door with paid employees. Check your municipality's website for more information.
More requests