Robin Neven, Business Intelligence & Analytics Engineer , posted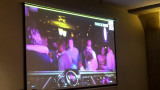 "Don't I know him from somewhere, didn't I see that name on a festival headline once?" This was the kind of chatter buzzing around the room when Milan Meyberg, former DJ turned Festival Revolutionist, took the stage and did a great showcase on the future of festivals and displayed how his organization, DGTL, is pursuing this future: through becoming fully circular and self sufficient. All in Pakhuis de Zwijger, where, together with Amsterdam Smart City, the event 'Smart Beats' was organized on April 24th.
Of course, there were also other presentations, from overarching approaches of the Gemeente Groningen to pitches of parties all wanting to contribute to making festivals in and around Amsterdam more sustainable. Term of the evening probably was 'hard cups', as apparently this is one of the most impactful components of festivals. Therefore, new constructions are explored by experimenting with a 'lease plan' for hard cups for example. Luckily, nine festival organizations already joined forces in a Green Deal, as many of these plans work only when executed on a large scale.
But what about the smaller events then? For that we had KAREL take the stage. Ok not really, because KAREL is an energy producing electric van that functions as a cultural stage for, well, basically anyone who wants to use it. But Noud Verhave was very well equipped to get the message across. For more information on this, search under projects on amsterdamsmartcity.com.
As for DGTL, they are on track to reach there goals of becoming fully circular one year earlier than planned: in 2019 already probably! That's something our national politics can learn from as well, although local politicians who were present won't be the ones stopping them, as they were very willing to help in any possible way.
All in all a very interesting evening sketching a bright green future of festivals!