Stay in the know on all smart updates of your favorite topics.
Communication Alliance for a Circular Region (CACR), posted
Francien Huizing, Program and Communication Manager at Amsterdam Smart City, posted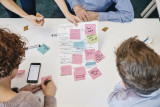 Te wicked? Niet voor ons.
Wij werken allemaal aan urgente, complexe, maatschappelijke uitdagingen. Issues die schier onoplosbaar lijken, van dilemma's en paradoxen omgeven, nog niet duidelijk hoe het moet. Wel is duidelijk dát het moet, dat we elkaar nodig
hebben en dat we er NU aan moeten beginnen. Om met de woorden van Jan Rotmans te spreken; we leven niet in een tijdperk van verandering maar in een verandering van tijdperk. En hier hoort een nieuwe gereedschapskist bij.
En of je nou aan energietransitie werkt, andere mobiliteitssystemen, creëren van waterstofhubs, peer to peer autodeelsystemen, het maakt niet uit, we zien dat al deze opgaven op enig moment tegen gelijksoortige barrières aanlopen. Op samenwerking, financiering, privacy, onvoldoende aansluiting op de maatschappij, om maar een paar voorbeelden te noemen.
Unieke samenwerking
Als Amsterdam Smart City netwerk willen en kunnen we deze opgaven niet laten liggen. Door het bundelen van onze kennis en expertise kunnen we als netwerk iets unieks bieden en de wil en durf tonen om deze barrières te doorbreken. De betrokken partners die dit uitdenken en begeleiden zijn RHDHV, Kennisland, Drift, NEMO, Arcadis, Alliander, HvA en Metabolic. Zij bundelen hun expertise en ervaring om de echte vragen boven tafel te krijgen, tot nieuwe manieren van samenwerken te komen en barrières te doorbreken. We richten ons met name op de start van de samenwerking. Gezamenlijk ontwikkelen we een 'wicked problem aanpak'. Op een nieuwe manier, lerend door te doen, exploratief.
Waar moet je aan denken?
Wat is eigenlijk het echte probleem? Wiens probleem is dit? Hoe kijken anderen er tegenaan? Welke andere partijen lijken nodig? Hoe vind je ze? Hoe ga je om met eigenaarschap en botsende frames? Hoe zorg je dat je al in
een vroeg stadium de maatschappij (bewoners, ondernemers, werknemers, etc) betrekt en hun ervaringen in het project trekt? Het wicked problem team zet nieuwe methoden in voor het beantwoorden van deze vragen. En het creëren van de benodigde commitment om het vraagstuk aan te pakken. Niets staat van te voren vast, want we passen ons aan aan wat we tegenkomen. Met elkaar ontwikkelen we een nieuwe aanpak om de barrières te doorbreken.
Sagar Bavarva, Founder & Chief Researcher , posted
Ever since the 20th century most of the countries across the globe are still using the traditional way of farming and it's still going on for the demand and supply of people. As we all know that by the year 2050, the 80 % estimation of the world population will have been living in urban areas which can lead the total population of the world to increase by 3 billion people. With this large amount of increase in population, scientists and researchers are quite worried about the farmland which will be required to generate such a huge demand for food supply to fulfill the necessity to survive. Noticing this fact in mind as what would be the future source of alternative solutions to solve such a type of problem a concept was proposed named "In-House Farming".
Make this your personal feed
Julie Chenadec, Relationship Development Manager at Aknostic, posted
The Data Centre Industry has grown rapidly and generates a large volume of e-waste / WEEE. The current infrastructure for dealing with this waste is underdeveloped and consequently, there is a real and urgent need to address this now. CEDaCI will build a Circular Economy for the Data Centre Industry by bringing together stakeholders from all equipment life cycle stages to turn this waste into a useful resource and support the ongoing rapid growth of the DCI.
Joost DE KLUIJVER, Director at Closing the Loop, posted
Anonymous posted
The Zero Waste Lab is an initiaitive of De Gezonde Stad (the Healthy City) and is supported by partners Stadsdeel Oost, Icova, Cities Foundation, de Regenboog Groep, Ymere and EY.
Besides, the Dapper Market, local entrepreneurs, the Dapper School and residents join.
Smart Stories
Check the article about the Zero Waste Lab featured in our online magazine 'Smart Stories':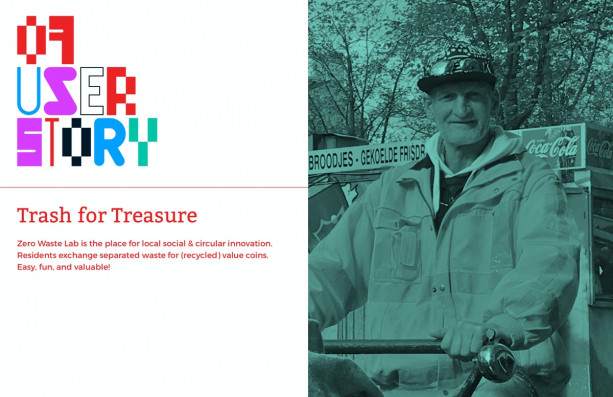 Sladjana Mijatovic, Program Manager at City of Amsterdam, posted
Since repairing is better than disposing
If you want to receive the dutch report, please send me a message.
Stay up to date
Get notified about new updates, opportunities or events that match your interests.
Set up preferences