Regine Wehner, Project Manager , posted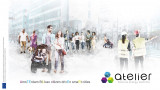 ATELIER is an EU funded project about AmsTErdam and BiLbao cItizen drivEn smaRt cities, aiming to create and replicate Positive Energy Districts (PEDs) within eight European cities. ATELIER showcases innovative solutions that integrate buildings with smart mobility and technologies to create rather than consume energy in its two Lighthouse Cities Amsterdam (Netherlands) and Bilbao (Spain). The Fellow Cities of ATELIER, Bratislava (Slovak Republic), Budapest (Hungary), Copenhagen (Denmark), Krakow (Poland), Matosinhos (Portugal), and Riga (Latvia), will replicate and adapt the successfully implemented solutions and thus serve as testbeds for future smart cities. Overall, ATELIER will thus generate an energy surplus of 1340 MWh of primary energy and save 1,7 kt of CO2 and 23 t of NOx-emissions.
To achieve successful implementations of energy saving measures, ATELIER puts citizens at the centre of all its activities: residents (<9000), local initiatives and energy communities will be included in decision-making processes and activities and will be strongly engaged in the development of the technical solutions throughout the project. Citizens will be involved in the Innovation Ateliers to create a maximum impact for the PEDs.
30 partners from 11 countries are working in 10 work packages.
Learn more about ATELIER at its public website (http://www.smartcity-atelier.eu/) or via the ATELIER Twitter and LinkedIn channels. Sign up here (link follows) for the ATELIER newsletter. Follow the project virtually and don't miss an opportunity to come talk to its partners at events to learn more about how ATELIER will improve the life of its citizens and the liveability in its cities!