Stay in the know on all smart updates of your favorite topics.
Francien Huizing, Program and Communication Manager at Amsterdam Smart City, posted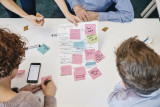 Te wicked? Niet voor ons.
Wij werken allemaal aan urgente, complexe, maatschappelijke uitdagingen. Issues die schier onoplosbaar lijken, van dilemma's en paradoxen omgeven, nog niet duidelijk hoe het moet. Wel is duidelijk dát het moet, dat we elkaar nodig
hebben en dat we er NU aan moeten beginnen. Om met de woorden van Jan Rotmans te spreken; we leven niet in een tijdperk van verandering maar in een verandering van tijdperk. En hier hoort een nieuwe gereedschapskist bij.
En of je nou aan energietransitie werkt, andere mobiliteitssystemen, creëren van waterstofhubs, peer to peer autodeelsystemen, het maakt niet uit, we zien dat al deze opgaven op enig moment tegen gelijksoortige barrières aanlopen. Op samenwerking, financiering, privacy, onvoldoende aansluiting op de maatschappij, om maar een paar voorbeelden te noemen.
Unieke samenwerking
Als Amsterdam Smart City netwerk willen en kunnen we deze opgaven niet laten liggen. Door het bundelen van onze kennis en expertise kunnen we als netwerk iets unieks bieden en de wil en durf tonen om deze barrières te doorbreken. De betrokken partners die dit uitdenken en begeleiden zijn RHDHV, Kennisland, Drift, NEMO, Arcadis, Alliander, HvA en Metabolic. Zij bundelen hun expertise en ervaring om de echte vragen boven tafel te krijgen, tot nieuwe manieren van samenwerken te komen en barrières te doorbreken. We richten ons met name op de start van de samenwerking. Gezamenlijk ontwikkelen we een 'wicked problem aanpak'. Op een nieuwe manier, lerend door te doen, exploratief.
Waar moet je aan denken?
Wat is eigenlijk het echte probleem? Wiens probleem is dit? Hoe kijken anderen er tegenaan? Welke andere partijen lijken nodig? Hoe vind je ze? Hoe ga je om met eigenaarschap en botsende frames? Hoe zorg je dat je al in
een vroeg stadium de maatschappij (bewoners, ondernemers, werknemers, etc) betrekt en hun ervaringen in het project trekt? Het wicked problem team zet nieuwe methoden in voor het beantwoorden van deze vragen. En het creëren van de benodigde commitment om het vraagstuk aan te pakken. Niets staat van te voren vast, want we passen ons aan aan wat we tegenkomen. Met elkaar ontwikkelen we een nieuwe aanpak om de barrières te doorbreken.
Sunny Howd, Student , posted
Hi im currently doing a dissertation on smart city technology in Amsterdam im really wanting to have peoples views on it. How they feel about the tecnology and whether they have liked the changed around roads and bike lanes etc in the past 10 years or so, im really wanting to know if people know about all the tech incorporated into the city. If anyone would like to get intouch if you feel you could help please send an email to sunnyhowd@outlook.com or message me on here would love to hear from you all!
Kind Regards
Sunny
Yvonne Van Remmen, Strategic Advisor , posted
Anne Rose van Servellen, Communication , posted
Do you like to work on complex urban issues involving multiple stakeholders and with direct effect for the Amsterdammer? From AI and data science, to smart mobility and circular economy, there are a number of opportunities to join the CTO innovation team.
Check out these current opportunities:
AI developer
Back end developer
Business developer (AI Team)
Data engineer
Data scientist (Smart Mobility Program)
Front end developer
Full stack developer
Project manager (MaaS & shared mobility)
Technical information analyst (Smart Mobility Program)
Tech lead circular economy
For complete information and application procedure, refer to the City of Amsterdam's website: https://www.amsterdam.nl/bestuur-organisatie/werkenbij/externe/
Or mail us for any questions: innovatie@amsterdam.nl
Burcu Kuzlak, Program Manager 5G at City of Amsterdam: Chief Technology Office, posted
5G will be the new generation of mobile connectivity. The connection will be faster and more reliable, and will bring previously unknown possibilities for citizens and business. Amsterdam is exploring the opportunities and obstacles on the road to a safe and useful 5G network. One of the ways we do this is with our field lab in Amsterdam South East, from the train station to the Johan Cruijff ArenA. But also through regional, national and international collaborations.
KATERYNA GLAZKOVA, posted
On March 5, 2019, the fifth M-Health Congress will take place – the annual event organized by Smile-Expo, dedicated to innovations in medicine and healthcare.
The event will also include an exhibition area, where attendees will have a chance to ask questions to producers of medical devices and software, and test products. Exhibits will embrace cloud services for medical facilities, devices for remote monitoring of health state, and many other things.
Specifically, the congress will be useful for:
• representatives of state medical facilities;
• practitioners;
• owners of private clinics;
• investors;
• mHealth startups;
• developers of medical software, devices, and other representatives of the digital medicine market.
iemke idsingh, Adviseur Stedelijke Innovaties , posted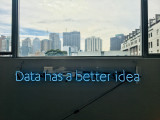 Is de mens altijd slimmer dan de techniek, of kunnen we techniek zo inrichten dat de mens er niet doorheen kan?
Op de bovenste verdieping van het Eye Filmmuseum zal tijdens Smart Humanity, op 13 december 2018, een hackathon plaatsvinden. Je kunt als team of als individu inschrijven in een van de divisies passend bij je niveau. Ook zijn er masterclasses waar je de basis kunt leren en daarna meteen in de praktijk mag brengen met een echte 'capture the flag'. Lukt het jouw team om meer punten te scoren dan de andere teams? Schrijf je snel in en mis geen seconde van dit event!
Deze hackathon is speciaal! Het is namelijk de eerste keer dat Tesorion, Defensie, Politie en NCTV in 1 hackathon samenwerken. Ook is nieuw dat er verschillende niveau's zijn:
– Beginners kunnen een masterclass volgen en worden de verdere dag ondersteund
– Voor gevorderden en professionals zijn er specifieke casussen vanuit Tesorion, Defensie, Politie en NCTV.
De minimum leeftijd voor deelname is 15 jaar. Iedereen die zich individueel inschrijft wordt later in een team geplaatst. Deelname aan de hackathon is gratis.
Prijzen
Prijzen die je kan winnen zijn afstudeer stages en gesprekken voor een baan of opdracht.
Folkert Leffring, Digital Media Manager , posted
Giovanni Stijnen, Senior project manager at NEMO Kennislink, posted
NEMO Kennislink verzorgt dit jaar een NEMO City Lab evenement tijdens het Inscience festival in Nijmegen. https://www.insciencefestival.nl/. Jaarthema van Inscience 2018 is AI. Inscience is een kwalitatief hoogstaand festival met (inter) nationale gasten en sprekers.
We zoeken experts - bij voorkeur op het gebied van AI in de stad – die willen deelnemen in onze activiteiten. Dat kan zijn als spreker in onze mini colleges of expert bij verschillende interactieve discussie formats. NEMO City Lab is laagdrempelig, speels en gericht op het betrekken van burgers bij stedelijke vraagstukken.
Inscience 2017 aftermovie https://www.youtube.com/watch?v=EBEhnDOjtss
Wat we vragen
Je gaat als expert onder begeleiding van ons team met bezoekers van het festival in gesprek over AI in de stad. Dat gebeurt op zaterdag 10 en zondag 11 november. Het programma duurt 4 uur en loopt naar verwachting van van 12 – 16 uur. Je bent niet 4 uur continue bezig, er is voldoende ruimte voor pauzes.
Wat we bieden
Wij voorzien je van lunch, koffie en thee. Je krijgt een festival pas waarmee je toegang hebt tot het festival. We bieden geen gages, wel een klein bedankje, reiskosten vergoeding en mocht het nodig zijn kunnen wij overnachting in Nijmegen voorzien.
Verder zorgen wij voor vermelding van alle deelnemers en hun organisaties in promotie uitingen en reportages.
Heb je interesse? Stuur dan vóór 8 okt. een mail o.v.v. Expert AI Inscience naar Giovanni Stijnen: Stijnen@e-nemo.nl
Wat is NEMO City Lab: bekijk hier een sfeerimpressie van een eerdere editie.
https://www.nemokennislink.nl/pagina/nemo-city-lab-x-roef/
Katja Berkhout, Director International , posted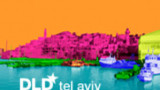 Business & Innovation Mission "Connecting the StartupDelta"
for Corporate Venture, Startups, Scale ups, Accelerators, Regional Agencies, Investors to Tel Aviv & DLD
When: Monday 3 -Thursday 6 September 2018
Where: Tel Aviv, Israel
For: Dutch innovation ecosystem: Corporate Venture, Investors, Accelerators, Regional Innovation Agencies and start-ups/scale up companies
Main focus: DLD conference, Convoy of StartupDelta with Prince Constantijn as speaker, network event by Dutch Embassy
Organization: StartupDelta and PerspeXo, in cooperation with the Dutch Embassy
Purpose of this trip is to establish meaningful connections and business relationships to the global innovation system present at/around DLD, the important players in the Israeli ecosystem and to build a strong Dutch StartupDelta brand. We will use the DLD conference, program and smaller business events around DLD to create tailor made programs to meet the demands of the individual participants and to effectively use the collective marketing/branding of the Dutch ecosystem. The participants of this Trade Mission are part of the convoy of StartupDelta, and will be part of the booklet created for DLD, pro-active assistance is given to create a tailor made program fitting individual organizations wishes. Together with the Dutch Embassy a network event will be hosted.
Jelle Paulusma, Project Manager at Port of Amsterdam, posted
At the innovation hub Prodock, a testzone is available for testing your sailing or diving drone.