Stay in the know on all smart updates of your favorite topics.
AMS Institute, Re-inventing the city (urban innovation) at AMS Institute, posted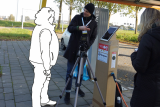 The City of Amsterdam has many smart technologies in place: from smart devices that measure things (i.e. sensors) to smart devices that steer processes in the city (i.e. actuators) such as traffic lights, charging stations, adaptable street lights, barriers that go up and down, and adaptive digital signs.
To illustrate, throughout the city there are over 200 cameras, about 230 air quality sensors and almost 500 beacons in place. The latter being devices in physical spaces that emit a signal that can be picked up by mobile devices with a specific app.
Smart technologies like these help the municipality to efficiently measure, analyse and steer processes in the urban area. For example to optimize mobility flows in urban environments, to better use available capacity of energy infrastructures, to conduct condition management on the city's assets, rationalise garbage removal and much more.
Responsible Urban Digitization
On the one hand, innovations like these can help improve the quality of life in the city and enhance safety and efficiency, but also sustainability and livability. Simultaneously, such novel technologies can impact society quite broadly. They could have consequences for matters that citizens value greatly, such as autonomy, privacy, transparency, inclusiveness and empowerment.
"The City does not want its inhabitants negatively impacted by potential privacy infringements, sense of loss of control and understandability, or reactions such as self-censorship." - Sigrid Winkel | Urban Innovation Officer | City of Amsterdam CTO
"Our recent research has pointed out that 'official' actors primarily see transparency as a mean to ensure adoption, while citizens see transparency as a starting point for voicing their concerns and influencing the purpose and use of smart technology. This leads us to conclude that we - as designers of these systems - need to aim to design these systems for engagement as well as pushback by society." - Gerd Kortuem | Professor & AMS PI
Launching a Responsible Sensing Lab
With our Responsible Urban Digitization program, we research, develop and integrate smart technologies like the aforementioned to help solve urban challenges. At the same time, we explore how to embed society's public and democratic values in the design of these innovations.
As part of this program, we are launching a Responsible Sensing Lab. In essence this is a testbed for conducting rigorous, transparent, and replicable research how our smart technologies placed in public space can be designed in a way that makes the digital city 'responsible'.
(Re)designing, prototype testing and implementing responsible sensing systems
In the Responsible Sensing Lab academics are invited to connect and work with practitioners who are responsible for digital systems in the city to (re)design, prototype and test (more) responsible ways of sensing in public space for and with the City of Amsterdam.
Hence, the Lab is a place where teams of multi-disciplinary stakeholders – such as computer scientists, policy makers, psychologists, designers and hardware experts – can address existing hardware, software and other city sensing systems.
"Responsible Sensing Lab is a place where experimentation and technologies come together to (re)design these innovations solutions that make public spaces cleaner, smarter and easier – while at the same time guaranteeing our social values." - Thijs Turèl | Program Manager Responsible Urban Digitization | AMS Institute
Three cases: Human Scan Car, Transparant Charging Station, Camera Shutter
There are already a few examples of projects that will be further explored in the Responsible Sensing Lab. Namely, the Human Scan Car, Transparent Charging Station and Camera Shutter projects.
Firstly, scan cars – vehicles that are equipped with sensors to collect data on the urban environment – are becoming increasingly popular to help the municipality to carry out tasks efficiently. For example with parking policy enforcement, waste registration and advertisement taxation. Apart from making the city more efficient and clean, with this project we question and explore what public and democratic values should be embedded in the implementation of these scan cars.
Together with UNSense, we invited representatives from the City of Amsterdam and Rotterdam, TADA, and researchers from TU Delft to join us for a 3-day sprint to design "the scan car of the future", that also looks at the human and fair values of the advances in technology. Get a full impression of this design sprint here.
"Design should play a role in guiding the perceptions of, and interactions with, automated sensing systems in the city. Going through this process with AMS Institute's researchers and public servants, we'll be able to bend the design towards a more consciously chosen, collectively desirable future." - Tessa Steenkamp | Sensorial Experience Designer | UNSense
Secondly, the transparent charging station is a design project meant to explain smart charging algorithm decisions to users. In the near future, when electric cars become more prevelant, the electicity grid will no longer be able to charge all electric cars at the same time. Smart charging algorithms will help coordinate which car will get to charge at what time. But how do these algorithms decide? The transparent charging station project produces the first user interface informing people about smart charging decisions.
"The transparent charging station promises to improve the democratic oversight of algorithms in EV charging. By explaining charging algorithm inputs, procedures and outputs in a user interface, EV drivers should be able to determine the system's fairness and see who the responsible parties are". - Kars Alfrink | Doctoral Researcher | TU Delft
Thirdly, the Camera Shutter project originated based on the notion that people do not know if and when cameras in public space are recording or not*.* We wondered: would people like to live in a city where all city cameras clearly show or state when they're not in use? What if, just like laptop shutters many people have placed over their webcam, this could be a way to make clear to citizens when a camera is not recording them?
For this third project, a timelapse camera at the office of AMS Institute was outfitted with a shutter. Subsequently, the effects of this small-scale pilot will be examined by interviewing staff and visitors.
Core values for responsible urban digitization
At the Responsible Sensing Lab, and for Responsible Urban Digitization program as a whole, we use the City's values (TADA, Digital City Agenda) as our starting point. We will explore what these values mean when applied to actual digital software and hardware.
Also, we are inspired by the methodology of value sensitive design. This approach allows us to focus on design choices inherent in the type of sensing hardware, the distribution of intelligence between cloud and back-end, the physical design and placement of sensors in public space, and interaction possibilities for citizens.
Recently, a three year collaboration has been signed between the City of Amsterdam and AMS Institute. In this Lab, we'll work closely with experts at TU Delft Industrial Design Faculty.
Francien Huizing, Program and Communication Manager at Amsterdam Smart City, posted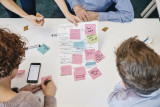 Te wicked? Niet voor ons.
Wij werken allemaal aan urgente, complexe, maatschappelijke uitdagingen. Issues die schier onoplosbaar lijken, van dilemma's en paradoxen omgeven, nog niet duidelijk hoe het moet. Wel is duidelijk dát het moet, dat we elkaar nodig
hebben en dat we er NU aan moeten beginnen. Om met de woorden van Jan Rotmans te spreken; we leven niet in een tijdperk van verandering maar in een verandering van tijdperk. En hier hoort een nieuwe gereedschapskist bij.
En of je nou aan energietransitie werkt, andere mobiliteitssystemen, creëren van waterstofhubs, peer to peer autodeelsystemen, het maakt niet uit, we zien dat al deze opgaven op enig moment tegen gelijksoortige barrières aanlopen. Op samenwerking, financiering, privacy, onvoldoende aansluiting op de maatschappij, om maar een paar voorbeelden te noemen.
Unieke samenwerking
Als Amsterdam Smart City netwerk willen en kunnen we deze opgaven niet laten liggen. Door het bundelen van onze kennis en expertise kunnen we als netwerk iets unieks bieden en de wil en durf tonen om deze barrières te doorbreken. De betrokken partners die dit uitdenken en begeleiden zijn RHDHV, Kennisland, Drift, NEMO, Arcadis, Alliander, HvA en Metabolic. Zij bundelen hun expertise en ervaring om de echte vragen boven tafel te krijgen, tot nieuwe manieren van samenwerken te komen en barrières te doorbreken. We richten ons met name op de start van de samenwerking. Gezamenlijk ontwikkelen we een 'wicked problem aanpak'. Op een nieuwe manier, lerend door te doen, exploratief.
Waar moet je aan denken?
Wat is eigenlijk het echte probleem? Wiens probleem is dit? Hoe kijken anderen er tegenaan? Welke andere partijen lijken nodig? Hoe vind je ze? Hoe ga je om met eigenaarschap en botsende frames? Hoe zorg je dat je al in
een vroeg stadium de maatschappij (bewoners, ondernemers, werknemers, etc) betrekt en hun ervaringen in het project trekt? Het wicked problem team zet nieuwe methoden in voor het beantwoorden van deze vragen. En het creëren van de benodigde commitment om het vraagstuk aan te pakken. Niets staat van te voren vast, want we passen ons aan aan wat we tegenkomen. Met elkaar ontwikkelen we een nieuwe aanpak om de barrières te doorbreken.
Negar Noori, Smart Cities Tech & Policy Researcher at Delft University of Technology (TU Delft), posted
The primary objective of this research project is to enhance an understanding of the concept of inclusion and its criteria in Smart city discourse. The research ambition is applying the result as a tool for benchmarking inclusive smart cities, which can assess and improve them. To apply the result, we aim to work with cities like Amsterdam, The Hauge, and Rotterdam.