Stay in the know on all smart updates of your favorite topics.
Mobility and transport are crucial for a city to function properly. Amsterdam is considered the world capital of cycling; 32% of traffic movement in Amsterdam is by bike and 63% of its inhabitants use their bike on daily basis. The number of registered electrical car owners in the Netherlands increased with 53% to 28.889 in 2016. Since 2008 car sharing increased with 376%. However, this is less than 1% of the total car use. Innovative ideas and concepts can help to improve the city's accessibility, so share your ideas and concepts here.
Audrie van Veen, International Strategic Advisor at Amsterdam Economic Board, posted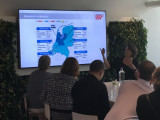 On Thursday 1 September 2016, Vice Mayor Daniel Helldén, head of the Stockholm Traffic Division and three deputy mayors and their teams visited Amsterdam Smart City.
The Swedish mayors are looking for best practices to improve the urban mobility in the Stockholm region. The Swedish capital has a population of 900.000 and with it's surroundings the region has 2,2 million inhabitants in total, quite comparable with the Amsterdam Metropolitan Area.
After meeting alderman Pieter Litjens of Amsterdam (mobility), the delegation visited the Amsterdam Arena. They got a short tour through the sustainable football stadium and some presentations in the Arena Innovation Lab. The Amsterdam Economic Board and Amsterdam Smart City were discussed, as well as the research on electric mobility of the Amsterdam University of Applied Sciences.
They also saw presentations of the Amsterdam Arena Innovation Lab and the Geodan geographical information systems (<http://www.geodan.com/>). The delegation concluded its visit with a bike tour in the city.
Frans-Anton Vermast, Strategy Advisor & International Smart City Ambassador at Amsterdam Smart City, posted
Tijs Roelofs, Smart Mobility Manager at City of Amsterdam: Chief Technology Office, posted
'In the near future, everyone in Amsterdam can choose the mobility that suits him or her; it will be mobility as a service', according to the Deputy Mayor of Amsterdam, Pieter Litjens. It is important the traffic in Amsterdam is arranged more efficiently. That is why he works on the use of smart techniques and the possibilities innovations and data can offer in a municipal program, called 'Smart Mobility'. Read his blog (in Dutch only)!
Er is een mooie serie Franse prenten uit 1900, waarop is weergegeven hoe het leven er honderd jaar later, in het jaar 2000 dus, uit zou zien. Kappers met heftige knipmachines – maar geen tondeuse. Brandweerlieden met vleugels zodat ze makkelijk bij de bovenste verdiepingen konden – maar zonder moderne brandwerende kleding. En natuurlijk zouden we vliegende auto's hebben in het jaar 2000.
De toekomst voorspellen is een ingewikkelde bezigheid, omdat je het vrijwel nooit bij het rechte eind hebt. Onze auto's vliegen niet - ik weet ook niet of dat een oplossing voor onze mobiltieitsvraagstukken zou zijn, of juist een extra probleem. Maar we hebben vrijwel allemaal een smartphone bij ons, en dat apparaat is eigenlijk fascinerender dan een vliegende auto. Want je kunt er zoveel meer mee. Selfies maken, sportuitslagen opzoeken, bellen. Maar ook de weg vinden.
Dat is voor mij smart mobility: gebruik maken van slimme techniek en de mogelijkheden die innovaties en gebruik van data bieden. Op die manier kunnen we het verkeer efficienter inrichten. Meer ruimte geven aan de fiets, de voetganger – of juist de auto – op de plekken waar dat nodig is. En op die manier kan iedereen de mobiliteit kiezen die bij hem past: mobility as a service.
Een concreet voorbeeld is het doelgroepenvervoer; dat is vervoer voor mensen voor wie het gewone OV niet toereikend is. Denk bijvoorbeeld aan mensen met een handicap, of ouderen. Door veel beter gebruik te maken van de gegevens, kennis en data die we al hebben, kun je dat veel efficiënter inrichten. Want nu gebeurt het bijvoorbeeld dat iemand eerst van school naar huis wordt gebracht, en vervolgens thuis wordt opgehaald om naar zijn stage te gaan.
Ook de ontwikkelingen op het gebied van autonoom vervoer gaan hard en zijn ontzettend interessant. Een groot deel van de nieuwe auto's heeft al autonome functies: zelf inparkeren, binnen de lijnen blijven, smart cruise control. Volledig zelfrijdende auto's die rondrijden binnen een stad met een eeuwenoud stratenpatroon als Amsterdam, zorgt voor nieuwe uitdagingen.
Met het programma Smart Mobility wil ik de bereikbaarheid van Amsterdam slimmer, en daarmee meer toekomstbestendig maken. Dat is goed voor de Amsterdammer, voor bezoekers, en voor bedrijven: de economische motor van de stad.
Hoe Amsterdam er over honderd jaar precies uitziet, dat weet ik niet. Maar dat we nu bezig zijn met het vormgeven van die toekomst, daar ben ik van overtuigd.
Pieter Litjens
Wethouder Verkeer, Vervoer en Organisatie
Carola Heimensen, Account Executive , posted
Aan Smart City-ideeën geen gebrek. Maar hoe komt u van idee tot realisatie? En vooral: hoe versnelt u die periode, die 'time-to-market'? Een simpele fietsbel kan daarvoor al genoeg zijn. Tijdens het webinar Smart City – razendsnelle realisatie bespreken we de inspirerende SafeToBike-case, waarbij een slimme fiets-wearable zorgt voor een veiligere stad.
Dit initiatief is om meerdere redenen het bespreken waard:
De tijd van idee naar prototype nam slechts 24 uur in beslag
De tijd van prototype tot tastbaar product duurde nog geen 4 maanden
Het project kwam tot stand met burgerparticitpatie, crowdsourcing, een hackathon en bestaande data.
Tijdens dit webinar op 13 september nemen we u mee van idee tot uitvoering. Van inspiratie tot realisatie. Zodat u het proces versnelt, en uw stad met kleine concrete oplossingen nóg slimmer, gezonder, veiliger, schoner en leuker maakt.
Maaike Osieck, Founder Mighty4 & Amsterdam Smart City Ambassador , posted
Maaike Osieck, Founder Mighty4 & Amsterdam Smart City Ambassador , posted
Vivienne Gaarlandt-Bolsius, posted
Maaike Osieck, Founder Mighty4 & Amsterdam Smart City Ambassador , posted
Maaike Osieck, Founder Mighty4 & Amsterdam Smart City Ambassador , posted
Danny Thomas, Commercieel Manager at Beacoming, posted
Hi Ron, could the City of Amsterdam be interested in a Smart Public Transport solution?
Annelies Van der Stoep, Strategic advisor at Amsterdam Economic Board, posted
Today it is still a demonstration drive only, but this might be the bus that I will take from my hometown Haarlem to Schiphol Airport in the near future!
Amsterdam Smart City, Connector of opportunities at Amsterdam Smart City, posted
TomTom (TOM2) today announced that TomTom City – a traffic portal that provides live traffic and travel information – has now extended to 50 cities. The traffic portal showcases the extensive range of traffic information available on a city by city basis and provides a platform to connect traffic authorities, businesses and citizens to jointly manage sustainable and efficient mobility.
Gerard Spin, CEO , posted
Vivienne Gaarlandt-Bolsius, posted
Carin Biegnolé, Urban Hubster duurzaam vervoer , posted
Tijdens deze halfjaarlijkse informele bijeenkomst zijn we te gast bij New Energy Docks in Amsterdam-Noord.
Voor deze bijeenkomst is plaats voor een geselecteerd aantal deelnemers.
Rijdt u al slim en schoon door de stad, of bent u van plan dat te gaan doen en wilt u volgende keer ook van de partij zijn?
Stuur dan een bericht naar carin@conversion.nl en wordt lid van de club.
Audrie van Veen, International Strategic Advisor at Amsterdam Economic Board, posted
Following the successful OPTICITIES study visits and tutorial sessions in Bordeaux, Lyon, Madrid and Glasgow, registration for the study visit of 8 July in Birmingham is now open via http://bit.ly/1UARS21
The event is organised at the Innovation Birmingham Campus and will combine expert presentations and live demonstrations focusing on innovative urban ITS services:
* Introduction to OPTICITIES project
* Transport policy: Birmingham Connected / WMCA
* Data management / open data platform / Multimodal datasets / Potential for C-ITS
* Use of traffic prediction in OCR
* Freight journey time reliability and driver assist services
The study visit is limited to 35 persons. Registration is mandatory and participation is free of charge. City delegates could get EUROCITIES support for their travel costs, please contact the Eurocities contact person in your municipality for that. Please register as soon as possible and before 1st July 2016.
Cities that are interested in applying for financial support through the Connecting Europe Facility in order to introduce the OPTICITIES multimodal dataset and open ITS architecture are invited to sign the New Mobility Services Memorandum http://bit.ly/1MiTJuy published by the Smart Cities Action Cluster on Urban Mobility.
By signing up for the OPTICITIES Stakeholder Platform - http://www.opticities.com/stakeholder-forum/online-forum - you can download our latest technical reports and deployment guidelines on multimodal data integration in large cities, road works data collection, contractual arrangements between public and private stakeholders, Multimodal Urban Mobility Database model and architecture, assessment methodology for Transport policies in urban areas and more.
Frans-Anton Vermast, Strategy Advisor & International Smart City Ambassador at Amsterdam Smart City, posted
Kansen voor Nederlandse oplossingen
De meeste kansen liggen in samenwerken op wet- en regelgeving, big data analyse en sensortechnologie. Uitwisseling tussen Singaporese initiatieven en Nederlandse proeftuinprojecten, gezamenlijk onderzoek met TNO, TU Delft en TU Eindhoven en samen innoveren met Nederlandse bedrijven ligt voor de hand. De Singaporese haven is net als de haven van Rotterdam platooning van vrachtwagens aan het testen. Een route van tien kilometer is voor deze proef voor efficient goederenvervoer gereserveerd. De huidige prototype demonstraties van zelfrijdende voertuigen op de drie testlokaties zullen in 2018 opgevolgd worden door operationele pilots. Vanaf 2020 zullen zelfrijdende voertuigen een volwaardige mobiliteitsoplossing zijn. In elke fase kunnen Nederlandse bedrijven hun oplossing aanbieden en onderzoekers een samenwerking zoeken met Singaporese bedrijven. De innovatie adviseurs van de Nederlandse ambassade helpen graag met het identificeren van partners.
Meer informatie?
Neem voor meer informatie contact op met Susan van Boxtel, Innovatie Adviseur in Singapore. E-mail: svb@nost.org.sg
Tijs Roelofs, Smart Mobility Manager at City of Amsterdam: Chief Technology Office, posted
Emma van der Veen, New business development | Product Management at Philips, posted
Robert van Hoesel, Co-founder at Crowded, posted