Camille Janssen, Sustainability Consultant , posted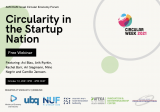 How does Israel pave its way to circularity? Which actions are taken to accelerate the transition to a circular economy?
During this event, we will discuss the value of innovation and collaboration on the path towards a circular economy in Israel together with key figures in the circular economy and startup ecosystem. Next to that, we will present the first Israeli Circular aInnovation competition as a way for you to connect with industry leaders in Israel and help us accelerate the transition to circularity.
The event is a partnership event of Circular Week 2021: https://circularweek.org/.
Program
Welcome by Avi Blau, Director of Afeka Institute of Circular Engineering & Economy (AICEE)
16:00 – 16:10: Dr. Arik Ryvkin, Director of FoodTech and Circular Economy in the Israeli Ministry of Economy and Industry
16:10-16:20: Ari Siegmann, head of business development. Israel Innovation Authority
16:20 – 16:30: Rachel Barr, Vice President Sustainability UBQ Materials
16:30 – 16:40: Mino Negrin, CEO NUFiltration
16:40 – 16:50: Presentation of America Israel chamber of commerce Circular Economy Forum, and the first Israeli Circular Innovation Competition. Avi Blau & Camille Janssen
16:50– 17:00: Q&A
UBQ Materials
UBQ Materials has developed a conversion technology that transforms household waste into green thermoplastic material. The patented bio-based material can substitute for oil-based plastics in the production of thousands of everyday products.
NUFiltration
NUFiltration designs, manufactures, and distributes water and wastewater treatment systems based on its patented NUF technology. The technology enables the reuse of medical filtration devices in the field of water treatment.
The Circular Innovation Competition
As part of the AMCHAM Israel Circular Economy forum, the competition was launched that includes 24 challenges of leading companies.