Esther van Bergen
Esther van Bergen, General Manager at Cenex NL, posted
Esther van Bergen, General Manager at Cenex NL, posted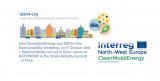 Registrations open for joint CleanMobilEnergy and SEEV4-City Electromobility Workshop, on 17 October 2018 in Paris
The European INTERREG projects CleanMobilEnergy (CME) and SEEV4-City join forces to organise the "Electromobility in practice – solutions, experiences & lessons learnt" Workshop in Paris on 17 October 2018. The meeting is organised back-to-back with AUTONOMY & the Urban Mobility Summit (https://www.autonomy.paris)
The workshop will take place on 17 October 2018, in Paris. Cities and regions are invited to this meeting to exchange about their own experiences, challenges and solutions regarding the deployment of electromobility solutions in urban areas. The workshop will be structured as follows:
Presentations of solutions implemented in projects (focus on electric charging infrastructure, energy management, and Vehicle to Grid) by city representatives
Discussions in small groups among public authorities and other electromobility experts on, e.g.:
- City needs & requirements;
- Intelligent Energy Management system;
- Social/Societal acceptance;
- Policy context ;
- Business models;
- EU legal aspects
- Wrap-up & conclusions
The workshop will be followed on 18 October 2018 by a dedicated 'Electromobility roll-out in Cities' session at AUTONOMY & the Urban Mobility Summit.
Representatives of public authorities and the private sector will exchange views and ideas about challenges and solutions for the deployment of electromobility solutions in urban areas, and energy management.
More information:
Registrations are open! Please use the Registration link
Reimbursement: Cities and regions are eligible for the reimbursement of travel costs. The funding is limited, therefore, please, contact Polis to ensure your reimbursement: GLozzi@polisnetwork.eu and/or RTinga@polisnetwork.eu
AUTONOMY the Urban Mobility Summit: city and policymakers attendees are eligible for a free ticket. To get a free pass, register here by 31st August.
Esther van Bergen, General Manager at Cenex NL, posted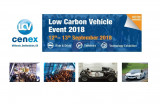 Cenex-LCV showcases electric, connected and autonomous vehicle innovation
The last 12 months have seen accelerating progress towards the mass adoption of low carbon vehicles. Resulting in, for example, the UK government's recent Road to Zero strategy announcement, which aims to see at least half of new cars ultra-low emission by 2030. This is reflected in the expanded range of activities and expected record attendees at the forthcoming Cenex Low Carbon Vehicle Event (Cenex-LCV2018). Held for its 11th year, the free-to-attend event will take place on 12th and 13th September 2018 at Millbrook in Bedfordshire.
The biggest event of its type in the UK, Cenex-LCV2018 provides an opportunity to showcase the latest technology, network with the wider industry, and hear about the latest innovation through its largest-ever speaker programme. Over 4,000 visitors are expected to attend from across the globe, with a particular focus on international automotive players.
This year's Cenex-LCV event also has a number of new features offering companies, universities and project consortia the opportunity to showcase the latest developments and results, including demonstrating and presenting to both a UK and an international audience.
More generally, the number of exhibitors has increased to 220, thanks to the addition of two new halls and the expansion of existing space. Exhibitors across the three indoor halls will include motor manufacturers, Tier 1s, technology companies and universities, as well as a particularly strong turnout from the UK electric vehicle supply equipment sector, for which the Cenex-LCV event is the main showcase of the year.
The outdoor exhibition space will again host a broad range of vehicles, with over 120 on display - many of which will be available for ride & drive. These vehicles will include some equipped with new leading edge technologies in prototype form. (Note: be sure to download your drivers license code @ https://www.cenex-lcv.co.uk/ride-drive)
This largest-ever seminar programme will see over 90 speakers share their expertise in discussions, seminars and workshops, including trends in electric vehicles (EVs) and e-mobility; ultra-low emissions vehicle (ULEV) policy and market trends; smart charging solutions for EV business fleets; and digital and design engineering.
Cenex also welcomes the ZEV summit to Cenex-LCV 2018
The UK will host the world's first zero-emission vehicle (ZEV) summit in Birmingham on 11th September 2018. Demonstrating the UK's position at the forefront of low carbon vehicle technology innovation, the ZEV summit will be linked to Cenex-LCV 2018. ZEV attendees will be visiting Cenex-LCV2018 on 12th September, enabling them to see new technologies first hand and providing exhibitors with the chance to network with the widest-possible audience. It will raise the profile of UK low carbon and zero-emission vehicle activities on an international stage.
Stay up to date
Get notified about new updates, opportunities or events that match your interests.
Set up preferences