Amsterdam Smart City, Connector of opportunities at Amsterdam Smart City, posted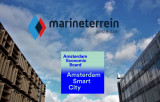 Het is nu officieel! Marineterrein Amsterdam en Amsterdam Smart City worden partners en gaan de samenwerking verder intensiveren. Het doel: kennis delen en samen aan de slag om tot oplossingen voor stedelijke vraagstukken te komen.
Amsterdam Smart City (ASC) zet zich vanaf het Marineterrein al jaren in voor open innovatie door als platform partijen en organisaties aan elkaar te verbinden. Kennis delen en samen aan de slag staan hierbij centraal.
Samenwerking
Een voorbeeld van zo'n samenwerking op het Marineterrein is het Responsible Sensing Lab, waarbij een aantal ASC-partners in de openbare ruimte experimenteren met verantwoorde detectiesystemen om bijvoorbeeld geluidsoverlast of drukte in kaart te brengen. Verschillende partijen brengen bij deze experimenten hun expertise bij elkaar om samen tot oplossingen te komen. De lessen die we daaruit leren zijn waardevol voor heel veel Smart City projecten.
Breder delen
'Het Marineterrein bestaat uit een levendige community die zich bezighoudt met het oplossen van allerlei stedelijke vraagstukken', zegt directeur van Bureau Marineterrein Liesbeth Jansen. 'Er is op het terrein veel kennis aanwezig over nieuwe manieren van leren, wonen en werken, en door ons aan te sluiten bij het ASC-netwerk kan die kennis nu breder gedeeld worden. En andersom kijken we uit naar interessante samenwerkingen tussen het ASC-netwerk en Marineterrein Amsterdam Living Lab die onze community verder kunnen helpen.'
Leren in real life
Directeur van ASC Leonie van den Beuken ziet met de samenwerking veel kansen om nieuwe, innovatieve oplossingen in real life te testen. 'Een van onze kernwaarden is leren door te doen. Het Marineterrein biedt een prachtig testgebied voor oplossingen die we in de praktijk willen uitproberen. We zijn daarom één van de partners in het Marineterrein Living Lab. Daarnaast staan wij beiden voor open innovatie ten behoeve van een leefbare stad. Aangezien het Marineterrein onze thuisbasis is, is het logisch om onze netwerken en ambities nog meer aan elkaar te verbinden.'