Lucas Parkker, Software Developer , posted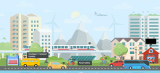 Growing population, aging infrastructure, lack of mobility-related resources, and inefficient transport networks are leading to higher traffic congestion, road safety, and supply of mobility services in urban areas. It has become important for cities to look for smart mobility solutions to tackle these problems. Intelligent Transportation System is one such innovative concept that enables reliable and more personalized travel experience to move around in cities. Let's have a look at the concept in detail.
What is an Intelligent Transportation System?
Intelligent Transportation System (ITS) strives to innovate, plan, operate, evaluate, and manage transportation systems by leveraging advanced information and communication technologies. ITS refers to the use of technology to collect and analyze information related to the sector to deliver integrated transportation solutions.
It focuses on various modes of transportation, infrastructure, vehicles, traffic management, stakeholders, and smart mobility. From a holistic point of view, it rectifies errors related to transportation, infrastructure and enables systematic management of the entire transport system by leveraging a wide range of technology. It is one of the important components of many innovative transportation solutions like Mobility as a Service, Connected, and automated mobility.
Moreover, effective use of infrastructure, capacity, technology in ITS requires a lot of planning well in advance by ITS specialists. That can be implemented by collaboration or public-private partnerships. Because there are so many things that need to be taken into consideration while implementing ITS, e.g., transport modes, design, routing, vehicles, technology type, and traffic flows, to make transportation safe and well-coordinated.
What is the need For ITS?
Transport authorities continue to raise the bar for safe and hassle-free transportation for commuters, but there are other challenges that commuters face related to urban congestion, inadequate road infrastructure, aging infrastructure, road safety, inefficient public transportation, and higher energy consumption. ITS can play an important role in solving these problems and better manage and control the transportation systems in real-time.
ITS facilitates new opportunities and more transportation choices integrated with easy-to-use technology. It is a multi-disciplinary concept that presents much-needed and cost-effective transportation solutions for smart cities. ITS can:
Use resources and infrastructure effectively (existing as well as new)
Plan, design, and implement comprehensive transportation systems
Offers multi-modal, adequate, and on-demand transportation options
Enhance public transportation management and its attractiveness
Combat urban congestion
Improve road safety and security
Reduce fuel and energy consumption levels
Control and manage traffic in the cities
Make transport safe, efficient, manageable, and sustainable