STEP Mobility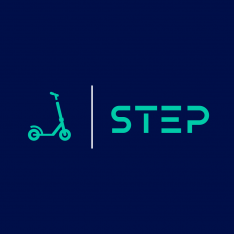 STEP is de eerste en enige aanbieder van elektrische deelstepjes in Nederland. Wij streven naar een uitstoot-vrije toekomst door ons reisgedrag te veranderen, of beter gezegd; te verbeteren. De elektrische deelstepjes van STEP rijden op duurzame elektriciteit en zijn gemaakt van recyclebaar materiaal. Bovendien bevorderen zij het straatbeeld en de leefbaarheid in steden en buurten.
De elektrische stepjes van STEP zijn het leukste alternatief voor de auto, fiets, scooter en het openbaar vervoer. Ze nemen veel minder ruimte in op straat en op de weg, waardoor zij hét vervoersmiddel zijn voor de milieuvriendelijke steden van de toekomst.
Kleine veranderingen maken een groot verschil, dus STEP met ons mee!
Sorry! There's no updates to show here right now.